Legally Blonde Gets Twins For Third Chapter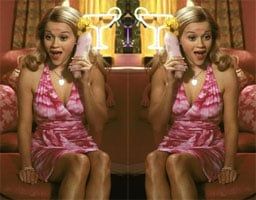 Someone make the pain stop now. This is quite possibly the most painful DVD news I've had to report in a while.
One of the few blights on Oscar winner Reese Witherspoon's filmography is Legally Blonde, the movie that has the actress doing her best Paris Hilton impersonation. I don't know what frustrates me more – the fact that she made the movie or the idea that I actually don't find it as reprehensible as I thought I would. In fact, Legally Blonde actually winds up being one of those fluff pics on my guilty pleasure list. The same can't be said of the sequel, however, which decided the character of Elle Woods hadn't actually learned anything in the first movie and just placed the same, unchanged character in a new scenario.
Now Legally Blonde is the latest franchise to be targeted for a direct to DVD sequel. Obviously Witherspoon has outgrown a film that would go straight to DVD so, like other franchises before, the story is abandoning all the original characters and moving on to family members, in this case, a cousin… or cousins.
Moviehole is reporting that "Zack and Cody" stars Camilla and Rebecca Rosso will be the next to carry on the Woods' legacy. The British twins will play characters similar to their American cousin, most likely wielding Hiltonesque fashion and dogs in tote bags. Instead of law school, the younger twins will head for an American prep school – no doubt a prestigious facility with a long history of faculty and alumni with sticks lodged firmly up their asses, which the blonde, colorful teens will put a stop to. Someone kill me now.
Now word when Legally Blondes will start filming or head to DVD, but we'll let you know when we know more. You provide the aspirin; we'll give you the news.
Your Daily Blend of Entertainment News
Thank you for signing up to CinemaBlend. You will receive a verification email shortly.
There was a problem. Please refresh the page and try again.