The Princess And The Frog Comes Within Kissing Distance On March 16th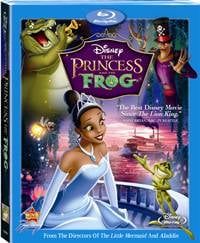 Disney dove back into traditional hand-drawn animation last month with The Princess and the Frog. Aside from trying to erase any lingering memories of Home on the Range, P&P broke new ground by featuring the first African-American Disney princess, Tiana (voiced by Anika Noni Rose). Rather than sticking with a more traditional fairy-tale setting, the flick also reimagined the classic tale of The Princess and the Frog as set in Jazz Age New Orleans. The movie also sports an excellent pedigree in writer-directors John Musker and Ron Clements (Aladdin and The Little Mermaid).
Disney is releasing the film on DVD and Blu-ray March 16th. Blu-ray fans can pick up a Blu-ray/DVD combo pack for $44.99, while the technologically challenged can opt for a standard single-disc DVD for $29.99. As is Disney's SOP, there's a mess of special features on both versions.
Single-Disc DVD Features
Deleted Scenes
Audio Commentary by John Musker and Ron Clements (co-writers and directors) and Peter Del Vecho (producer)
"Never Knew I Needed" -- Music video by Ne-Yo
What Do You See: Princess Portraits -- A bayou-style quiz tests viewers' knowledge of all of Disney's beautiful princesses. Ray's firefly family creates twinkling portraits of each princess and if the player correctly identifies her, they can enjoy a tongue-cheek mini re-telling of that character's story.
The Blu-ray combo pack includes all of the above, plus:
Magic In The Bayou: The Making of a Princess -- Co-writers and directors John Musker and Ron Clements take a freewheeling, behind-the-scenes look at the making of Disney's newest animated film as it grows from an initial concept to a lavish animated film set in the enchanting world of New Orleans and the surrounding bayous.
The Return to Hand-Drawn Animation
The Disney Legacy
Disney's Newest Princess
The Princess and the Animator
Conjuring The Villain
A Return to the Animated Musical
Bringing Life to Animation with an introduction by John Musker and Ron Clements.
Deleted Scenes introduced by the filmmakers
Art Galleries -- A collection of storyboard art traces the visual development of The Princess and the Frog's rich gallery of characters and settings.
Your Daily Blend of Entertainment News
Thank you for signing up to CinemaBlend. You will receive a verification email shortly.
There was a problem. Please refresh the page and try again.