Sean Connery's Last Bond Performance On Blu-Ray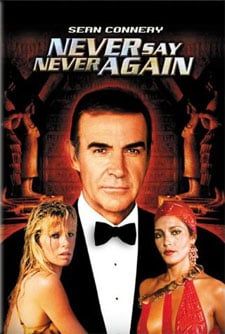 There was George Lazenby, Roger Moore, Timothy Dalton, Pierce Brosnan and now Daniel Craig, but there is nothing like a James Bond movie with Sean Connery in the leading role. Celebrate Connery's final appearance as James Bond with Never Say Never Again on DVD and Blu-ray March 24th.
SPECTRE agents have penetrated a US air force base in the UK and hijacked two Tomahawk cruise missiles. In such a time of crisis, there is only one man to call –James Bond. Will Agent 007 be able to save the world from nuclear terrorists?
I'm sad to say that I'm not enough of a Bond fan to truly appreciate this classic being presented in the clarity of Blu-ray HD. But, for those of you who go nuts over the explosions, gadgets, pretty ladies and beautiful scenery; you'll welcome the special feature selection, which includes commentary with director Irvin Kershner and James Bond Historian Steven Jay Rubin. (There's a historian specifically dedicated to James Bond?) There's also "The Big Gamble" featurette, "Sean is Back" featurette, "The Girls of Never Say Never Again," the theatrical trail and a photo gallery.
Sean may have told his wife he'd never play 007 again, but when the time came, he was ready to make an explosive return. You can pick up Never Say Never Again on DVD for $19.98 or on Blu-ray for $34.99.
Staff Writer for CinemaBlend.