Pedro Pascal Reveals Why He Loved Filming His Gross Game Of Thrones Death Scene
This brutal scene was actually really nice to film.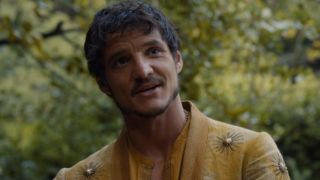 (Image credit: HBO)
Watching Pedro Pascal's death scene was one of the more brutal and hard-to-watch sequences on Game of Thrones. To this day, it's known as one of the most gruesome deaths on the hit fantasy series, however, the actor behind Oberyn Martell revealed that getting his eyes gouged out was actually the "best part of the day," and he loved it.
The scene in question is one of the best-known deaths in Game of Thrones, and a moment that Pedro Pascal gets asked about often. The sequence shows his character getting beaten to a pulp by The Mountain, and it ends with the Oberyn's eyes getting gouged out. However, the actor revealed it was actually a scene that he really enjoyed working on, and it was so relaxing he fell asleep while filming. The Last of Us star was asked about the scene on Hot Ones, and he went into detail about shooting the sequence, and why it was the "best part of the day."
The crew filmed a lot of the scenes that took place in King's Landing in Croatia, and it gets really hot there. Pascal noted how the fake blood they had put on his face helped cool him on the sweltering day, and he said the actor he was working with was super gentle and nice. While the scene itself is anything but relaxing to watch, The Mandalorian star explained that as he lay on the ground, with cold fake blood and "fleshy bits" on him, he was so relaxed and relieved that he fell asleep.
So if you go back and watch that iconic fight sequence in Season 4, when you see that wide shot of The Mountain and a very dead Oberyn, Pedro Pascal might have just been asleep in that moment.
Now years removed from Game of Thrones, Pascal is still asked about that legendary fight and death scene, however, with his two latest projects being cultural phenomena, the questions these days tend to veer more toward The Mandalorian and The Last of Us. Although, since Pascal stars alongside fellow GOT alum Bella Ramsey on the hit video game adaptation, the two occasionally end up talking about their times on the fantasy set, and it's always fun to hear behind-the-scenes stories, like this one, about such a beloved show.
While Pascal is known for his memorable deaths on shows like Game of Thrones, lately he's become known for playing reluctant father figures who grow to love their young companion on both The Last of Us and The Mandalorian. This trend became abundantly clear as both of his series aired on the 2023 TV schedule in the same month.
To watch all of Pedro Pascal's projects mentioned, you can check out The Mandalorian with a Disney+ subscription, and The Last of Us as well as Game of Thrones can be streamed with an HBO Max Subscription.
Your Daily Blend of Entertainment News
Riley Utley is a Weekend Editor at CinemaBlend. She spent many years working in local journalism across the country writing about art, news and sports. One of her favorite films is When Harry Met Sally and she walks around constantly quoting Ted Lasso.