The 12 Most Gruesome Deaths In Game Of Thrones, Ranked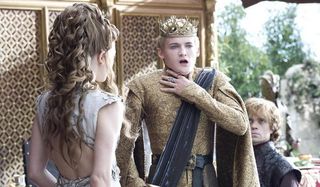 Game of Thrones has become one of the biggest shows on television. The series is known for many things at this point, ranging from dragons and White Walkers to political backstabbing. If Game of Thrones is best known for one thing, however, it has the be the show's willingness to kill off characters large and small in spectacularly brutal ways. After six seasons, we've seen plenty of gruesome deaths, and some simply surpass almost all the rest. So, as fans are stuck in the middle of a hiatus between Seasons 6 and 7, we've compiled a list of the 12 most gruesome deaths in Game of Thrones to date, ranked. Prepare yourself from a violent blast from the past and check it out!
Warning: spoilers for all six seasons of Game of Thrones lie ahead.
12. Kraznys mo Nakloz
We first saw Kraznys mo Nakloz in Season 3, when he met with Daenerys Targaryen to negotiate the sale of his Unsullied slave army to be used as her fighting force in taking the Seven Kingdoms. Believing that Dany only spoke the Common Tongue, Kraznyz communicated with her via Missandei and continually insulted her in Valyrian. They ultimately struck a deal in which she would trade Drogon for his entire stock of Unsullied. Unfortunately for Kraznys, Dany really, really doesn't like slavers, so she used her new Unsullied army to slaughter his forces in Astopor and set Drogon on him, brutally burning him alive.
11. Ned Stark
The most infamous death of Game of Thrones might just be Ned Stark in the penultimate episode of Season 1. Ned was the protagonist of the first season, and many expected him to be around for the long haul. Instead, after publicly confessing to a crime he didn't commit to spare Sansa, Joffrey refused to honor the deal that would send him to live the rest of his life as a member of the Night's Watch. As Sansa screamed and Cersei and Varys tried to talk sense into Joffrey, Ned was forced onto his knees and beheaded with his own house's ancestral greatsword. If that wasn't enough, the next episode treated us to the sight of his head on a spike.
10. Shireen Baratheon
Poor Shireen Baratheon is one of the characters of Game of Thrones who had really done nothing to deserve to die. Sure, a lot of other deaths have been senseless and random and overkill, but Shireen was just a little girl who loved her father and wanted to help him. Unfortunately for her in Season 5, helping her father happened to entail being burned alive, with her king's blood providing the necessary sacrifice to the Lord of Light that Stannis' army might survive a Northern storm. Although we didn't actually have to watch Shireen burning the way we watched Kraznys burning, her shrieks, the reactions of the Baratheon men, and her parents' expressions combine to make her death one of the most brutal of the series.
9. Fat Walda
Another character who died a far more gruesome death than she deserved was Walder Frey's heaviest granddaughter, also known as Fat Walda. Her life was pretty good when Walder paid Roose Bolton her weight in gold in exchange for their marriage, and she even bore Roose a healthy son at Winterfell. Life took a turn for the worse in Season 6 when Ramsay Bolton murdered his father and decided that he didn't want a baby brother who could potentially challenge his claim to the title of Lord Bolton. So, Ramsay lured Fat Walda and her infant son to the kennels, where he locked them inside and loosed his hounds. Mother and son were devoured alive while Ramsay watched.
8. Ser Rodrik Cassel
Ser Rodrik Cassel was the kindly master-at-arms at Winterfell, and he was responsible for training most of the Stark boys and even Theon Greyjoy in swordplay. Sadly, he paid the ultimate price for how well he trained Theon in Season 2, as Theon managed to seize Winterfell while the majority of the Stark bannermen were south fighting Robb's war. Although Bran yielded the castle to avoid bloodshed, Rodrik spat in Theon's face and refused to follow his orders. So, Theon put Rodrik on his knees in the rain and proceeded to attempt to behead him with a too-blunt sword while Bran and Rickon sobbed. It took Theon four swings and a kick to finally get Ser Rodrik's head off.
7. Joffrey Baratheon
King Joffrey Baratheon will undoubtedly go down as one of the most dastardly villains of Game of Thrones history. He spent the better part of two seasons tormenting everyone around him until even his own family couldn't stand him. So, there probably weren't too many viewers who were brokenhearted when Joffrey bit the dust at his wedding feast after marrying Margaery Tyrell. He was poisoned in a sneaky plot by Olenna Tyrell, turning purple, leaking fluids, and convulsing before finally dying in the beginning of Season 4. His death was gruesome enough that the entire affair has been dubbed the Purple Wedding, but not so gruesome that it's not worth a rewatch every now and then, just to savor the fact that he's gone.
6. Viserys Targaryen
Way back in the beginning of Season 1, fans hadn't yet learned that pretty much anybody can die on Game of Thrones. That changed in the sixth episode when Viserys Targaryen died a horrifying death at the hands of Khal Drogo. It wasn't an entirely undeserved death; drunk and wielding a sword inside the sacred Dothraki city of Vaes Dothrak, he threatened to cut Drogo's son out of Dany's womb and take her back if Drogo didn't give him his golden crown as king of the Seven Kingdoms. Khal Drogo did give Viserys a golden crown...of sorts. While his men held a terrified and begging Viserys down, Drogo poured a pot of molten gold onto Viserys head to kill him.
5. Ramsay Bolton
If any character deserved to die on Game of Thrones, it had to be Ramsay Bolton. He tortured and mutilated countless nameless characters, castrated and broke Theon, raped Sansa, murdered Fat Walda and her newborn son, stabbed Osha, and slaughtered Rickon in front of Jon Snow. Sansa at least got her revenge on Ramsay after his capture during the Battle of the Bastards. After he'd been beaten to a bloody pulp and restrained in Winterfell, Sansa set his hounds on him. Despite his confidence that they would never turn on their master, Sansa told him that they hadn't eaten in seven days. She didn't flinch once as the dogs ripped into Ramsay. Game of Thrones may never create a more effective villain than Ramsay Bolton, and he came to an appropriately bloody end in Season 6.
4. Talisa
In hindsight, it's fairly easy to understand why the Red Wedding had to happen in Season 3. Yes, it was then and remains to this day one of the biggest tragedies of the entire series, but Robb stark did break a vow that he made to a proud and spiteful lord, and he really only did it because he didn't want to marry a Frey when lovely Talisa was around. Robb pretty much had to die if the story was going to make sense. That said, Talisa's death is still shocking to watch. Stabbed repeatedly in the belly where she was just beginning to show her pregnancy, she bled to death on the floor while Robb watched and all hell broke loose around them.
3. Mago
Mago was a relatively minor character of Game of Thrones, appearing in only two episodes of the first season. Still, he will likely go down as one of the most unforgettable characters of the series just for the manner of his death. He was a rider in Khal Drogo's khalasar, and he wasn't happy with how Dany was interfering with how Dothraki men took women as spoils of war. Mago made the fatal mistake of calling her a "foreign whore," which prompted Drogo to engage him in battle. It was a short battle as Drogo deliberately accepted a wound from Mago, then seized Mago's weapon, slit his throat, and then literally yanked his tongue out of his head via the slit in his throat. Sorry, Mago, but you don't mess with Khal Drogo.
2. Catelyn Stark
Talisa wasn't the only Stark woman to meet her end at the Red Wedding, and Catelyn's death was even more horrifying. Talisa at least got to die a relatively quick death; Catelyn was the only one of the Northerners to realize what was happening right before it happened, and so she witnessed the whole thing. She was shot with a crossbow bolt, watched Talisa die, saw her son take multiple wounds, begged with every fiber of her being for Lord Walder to let Robb live, had to watch Roose Bolton murder Robb, then had her own throat slit. Michelle Fairley gave her finest performance of the series as Catelyn watched everything fall apart in the most horrifying ways imaginable and then die, utterly defeated.
1. Oberyn Martell
What other death could possibly take the top spot on a ranking of gruesome Game of Thrones deaths? Oberyn made his grand Thrones debut in Season 4, when he arrived in King's Landing to represent House Martell at Joffrey's wedding. He would later volunteer to fight as Tyrion's champion in a trial by combat against the Mountain, who Oberyn believed had raped and murdered his sister before murdering her children. Oberyn had the upper hand for most of the fight, stabbing at the Mountain and goading him to admit his crimes against Elia. He became too confident of his victory, however, and the Mountain tripped him, pinned him down, and killed him by gouging out his eyeballs with his thumbs and cracking his skull open with his bare hands, all while gloating about what he did to Elia. Ouch.
We got plenty of gruesome deaths over the first six seasons of Game of Thrones, and we're sure to get even more in the final two. Unfortunately, we have a while to wait before we get to see what happens next. Take a look at our breakdown of what we know so far about Game of Thrones Season 7, and don't forget to check out our midseason TV premiere schedule to see what else you can watch.
Your Daily Blend of Entertainment News
Laura turned a lifelong love of television into a valid reason to write and think about TV on a daily basis. She's not a doctor, lawyer, or detective, but watches a lot of them in primetime. Resident of One Chicago, the galaxy far, far away, and Northeast Ohio. Will not time travel, but will sneak references to The X-Files into daily conversation.