Crackdown 3 Will Release Later Than We Thought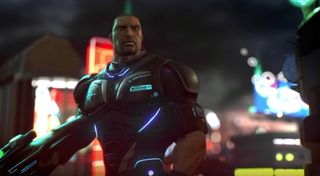 (Image credit: Microsoft Game Studios)
Not every announcement in Microsoft's E3 campaign was roses and honeycombs. One of the more disappointing things to come out of the E3 press conference from Microsoft was the fact that Crackdown 3 is not coming this year but next year.
Game Informer picked up the news that was announced by the creative director at Reagent Games, Dave Jones, where he made a post over on the official Crackdown 3 website to let everyone know that the game was delayed.
So how delayed is it? Well, it's very delayed. It was originally scheduled to have some sort of a soft launch or test this year for the Xbox One, but the website indicates that the game is now set to arrive on the Xbox One in 2017. Don't be surprised if Windows 10 integrated support is also added in there for a seamless bit of multiplayer co-op and cross-platform compatibility. In fact, that was one of the biggest themes of Microsoft's E3 press conference: cross-platform compatibility and seamless access to apps across multiple devices.
Reagent Games will take full advantage of Microsoft's new Xbox and Windows ecosystem insofar as cross-buy and play anywhere is concerned, but will there be a full Crackdown 3 release on Windows 10? I'm sure we'll have to wait and see how that turns out.
Last year, Dave Jones had mentioned during GamesCom and other events that this newest Crackdown iteration would have a multiplayer alpha test. Originally, the alpha test was scheduled to take place after this year's E3, during the summer. The idea would be that Microsoft and Reagent Games could focus on getting the game up and out there for gamers to play-test and mess around with the physics-based properties.
Speaking of physics... that's one of the key themes of Crackdown 3 and how the game is expected to center around destruction. The multiplayer will allow players to completely deconstruct entire buildings from top to bottom. It's possible to level everything.
However, that level of physics processing required Reagent Games to offload the calculations to the cloud. Supposedly Crackdown 3's multiplayer would rely on Microsoft's Azure servers to handle the calculations and rendering of the physics. Most people figured this would end up being a disaster given that a lot of gamers just don't have the bandwidth to benefit from that kind of infrastructure for a multiplayer game.
I don't know if the delay was specifically designed to address the bandwidth conundrum or if it was put into place to further optimize the game for the Xbox Scorpio, which is due out at the end of next year, but hopefully the delay is to help improve the third outing of Crackdown and make a far more engrossing game than what Crackdown 2 was.
I imagine Agent customization will also play a big part in the game, but sadly Reagent Games hasn't been talking much about the single-player story mode. We'll likely find out more later in the year -- probably with new footage at GamesCom -- leading up to the 2017 release of Crackdown 3. For now, gamers will simply have to play the waiting game for this Xbox One exclusive.
Your Daily Blend of Entertainment News
Staff Writer at CinemaBlend.