Why The E3 Red Dead Redemption Reveal May Have Been Cancelled Last Minute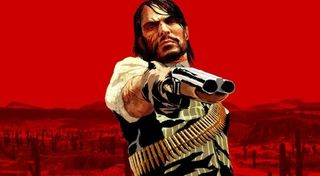 (Image credit: Take-Two Interactive)
Some rumors are starting to spread as to the reasons why we didn't see the sequel of Red Dead Redemption during any of the major press conferences at this year's E3. Some speculate that it was because of the Orlando shooting.
According to BitBag, the Red Dead Redemption sequel was not showcased at this year's E3 due to the Orlando nightclub shooting that occurred over the weekend. They point to a video from Game Riot that speculates that Rockstar Games was going to display the game last at Sony's press conference but they had to switch out at the very last minute to showcase Days Gone. They added that there's reportedly a scene in the game where the protagonist enters a saloon and shoots people.
None of this information comes from legitimate sources and all of them are unconfirmed at this point. Even more than that, neither Rockstar nor Sony have verified this information. Obviously Rockstar isn't going to say anything because if they say "Yes, it's true" they would inadvertently reveal that a new Red Dead Redemption title is coming. If they say "No, it's not true" then they would also confirm that there's no new Red Dead in the works. It's kind of a lose-lose situation since they haven't officially announced that they're even working on or have a Red Dead game in the works.
Now, this speculative rumor has several major holes in it that detract from it holding up under scrutiny. So, let's take a closer look at the situation...
First off, Rockstar Games has never been keen on making major announcements at E3. I don't see why they would start now, and certainly not with Red Dead. It's a lesser title than Grand Theft Auto and Rockstar hasn't used E3 to make major announcements about GTA in recent years. Changing up that formula when they've become more and more autonomous from trade shows seems like they would be moving backward from the current trajectory they're on with their games.
Every year there are rumors from all over the net about Rockstar dropping a megaton at E3, and every year those rumors are proven false.
The next big plot hole in this theory about Red Dead at Sony's conference is that you don't just replace a giant seven minute gameplay demo segment a day before your conference. The articles purport that Red Dead Redemption was going to show a lot of weapons being fired, including a massacre in a saloon, and because of that Rockstar and Sony axed the demo and replaced it with a last minute showing of Days Gone. This is not how E3 works.
It takes months to put together a working vertical slice. Having a slice of Days Gone ready in just a day's time is not only asinine but technically impossible. Some people might be thinking, "Well, if the game is near complete they just had to show some of the footage from a complete build". That could be the case if Days Gone were nearly complete, in which case it's far from complete and a long ways off from release. So it's not like they could just whip up a demo over the weekend.
Additionally, Sony has very specific time slots for each segment, especially considering that they had a live orchestra on hand who played music according to the demonstration. Completely wiping out a near-10-minute segment and reorganizing everything on a whim would have been disastrous, and seems unlikely.
Unless Sony or Rockstar says otherwise, it's likely to chalk this up as a rumor worth taking with an ample supply of salt.
Staff Writer at CinemaBlend.
Your Daily Blend of Entertainment News
Thank you for signing up to CinemaBlend. You will receive a verification email shortly.
There was a problem. Please refresh the page and try again.