Grand Theft Auto 5's New Adversary Mode Is Ridiculous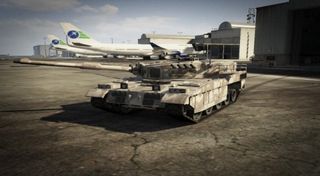 Rockstar Games has a brand new Adversary Mode for the online portion of GTA V. The new mode is called Rhino Hunt, and it pits a group of tanks against some fast-moving dune buggies armed with sticky bombs. The objective for the dune buggies is to get close enough to stick the bomb to the tank.
Game Informer is reporting that the new mode is available right now for GTA V and that those who decide to play online and participate in the mode will earn double the experience points and money up until March 3rd, next week. It's a nice little weekend treat for gamers looking to gain some extra reputation and cash during their GTA Online exploits.
There are also a number of in-game items that are discounted as well, including the following:
Warstock Cache & Carry-25% off
Merryweather Services-25% off
All Assault Rifle ammo-50% off
Select Weapon Attachments-50% off
Tactical Gear from Heists-50% off
According to the official Rockstar Games website, it's not just the Rhino Hunt that will afford players some extra RP and money in GTA Online. There are also bonuses being handed out for players who partake in the 'Till Death Do Us Part Adversary Mode, which originally went live back during Valentine's Day, as a special event for couples. There's also the option to earn some extra RP from the Freemode Events, which will run all week long.
The comment section on the official website is very interesting. A lot of gamers are complaining that Rockstar is putting way too much time and effort into GTA Online's Adversary Modes and not enough time on "Mature" content.
According to some of the gamers, they feel as if the Adversary Modes are designed for kids and that GTA Online is not a kid's game. In that regard they really do have a point. The title is designed for people 18 years of age and older, and including a lot of modes that some people have described as being designed for people who play "Super Mario Kart", does seem to look a bit odd. Then again, maybe Rockstar is looking at the stats and seeing that a lot of people love Adversary Modes and are continuing to pump them out for GTA Online.
It's also interesting seeing hundreds of comments where people are saying they're not into Adversary Mode but they would love more Heist content and missions that are complex enough that require teamwork and strategy.
Now that Rockstar has mostly left the Xbox 360 and PS3 behind when it comes to GTA V content, it does seem a little odd that they haven't taken advantage of the PS4 and Xbox One (and PC) to do larger scale Heist missions with more in-depth mechanics. Maybe that stuff will come later in the year?
For now you can enjoy the double RP and double money weekend in GTA Online with the new Rhino Hunt Adversary Mode or gain some extra goods from the Freemode Events. Remember, the bonus RP and money event will end on March 3rd.
Your Daily Blend of Entertainment News
Staff Writer at CinemaBlend.