Red Dead Redemption Could Finally Be Getting A Sequel, Get The Details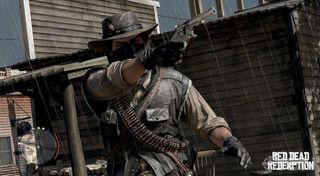 A supposedly leaked e-mail from someone close to an ex-employee of Rockstar has let loose some details on the upcoming sequel to Red Dead Redemption. Supposedly the sequel will be called Red Dead Redemption 2: Legends of the West and will release in 2017.
Moviepilot did a write-up on the information that came from the website Fraghero. Neither site seems to have any sort of verification on the details in the e-mail and neither site seems to have reached out to Rockstar for confirmation, not that Rockstar would confirm or deny the publishing of rumors. Either way, none of the information released on either site has been verified at all and as far as rumors go you could chalk the following information up as that friend who "leaks" info because his dad works at Nintendo.
Anyway, the sequel to Red Dead Redemption will supposedly be a heck of a lot bigger than GTA V and it will also borrow from the original Red Dead Revolver where players took on the roles of multiple characters throughout the main campaign. They don't mention if the characters will have large or small roles – in GTA V Franklin, Trevor and Michael could be switched to at any time but in Red Dead Revolver players only took hold of certain characters at certain times throughout the story.
They mention that the game has been in development for the past four years and that it went into development just two years after Red Dead Redemption released. They state that Rockstar will unveil the game at this year's E3, even though Rockstar hasn't really been keen on doing that kind of stuff at E3. They further mention that the game will release in August of 2017. August seems like a weird release window but that could be a placeholder, which is not unlikely. A more realistic window is September through November, which is when most AAA titles drop.
They don't go into the details of the actual gameplay and they don't talk about the graphics or tech behind the game. One thing Rockstar has become renown for since GTA IV is utilizing the Euphoria tech. They scaled back greatly on its utilization in GTA V due to the limitations of the Xbox 360 and PS3, but it's possible we could see some serious application of the middleware in something like a Red Dead sequel if it's limited to release on the Xbox One, PS4 and PC.
Now, this sort of news is definitely a toss-up, because Take-Two CEO Strauss Zelnick has been talking up more sequels to games like BioShock, Grand Theft Auto and even Red Dead Redemption. With the leak of BioShock: The Collection making its way across various international ratings boards, it's starting to look like what Zelnick mentioned is definitely being applied across the company's top franchises. People also think BioShock: The Collection will be a hold-over title for a new BioShock game. And with Red Dead Redemption launching soon as an Xbox One backwards compatible title, it's also not unlikely that Rockstar could use that as a jumping-off point to announce a sequel.
Right now this is all rumor and it's a 50/50 toss-up on how true any of this is. We'll likely find out at this year's E3.
Staff Writer at CinemaBlend.
Your Daily Blend of Entertainment News
Thank you for signing up to CinemaBlend. You will receive a verification email shortly.
There was a problem. Please refresh the page and try again.