The Shocking Reason The Orion Project Was Removed From The Steam Store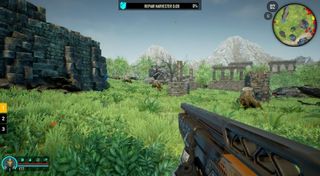 (Image credit: Doutor Octanagem)
Trek Industries, previously known as Spiral Game Studios, had their latest Orion project taken down from Steam. The reason why? It was hit with a Digital Millennium Copyright Act notice by Activision for having stolen assets.
Game Informer tries to cut it right down the middle, providing both sides of the story, explaining how one of the newer Orion games apparently featured assets from Call of Duty: Black Ops 3 and Call of Duty: Advanced Warfare.
CEO of Trek Industries, David Prassel, originally posted in anger about the DMCA takedown notice since it arrived during the Steam Summer Sale, forcing their newest Orion game to be removed from Steam by Valve. However, the PC Master Race thread on Reddit did a lot of digging and comparisons and found that some of the guns in Orion did appear to have certain assets lifted from Call of Duty games. They linked to the imgur post that shows the exact parts that were copied for an automatic shotgun.
"
After seeing some of the posts and comparisons, Prassel decided to question one of his freelance artists about it and the artist said that he was sorry and would remake all of the assets. Prassel also later made some public statements that Game Informer quoted, where he explains what their next steps are in rectifying the problem...
Prassel offers a roadmap on fixing some of the issues, including "any" content that Activision finds "offensive", along with removing all of the DevHelmets from the game. For those of you who are unfamiliar with Orion, the DevHelmets were parody helmets based on popular masks and helmets from other properties, such as a Boba Fett style helmet, or a Guyver style helmet. There was even one that looked like Kylo Ren's mask from Star Wars: Episode VII. However, all of those masks and helmets are being removed.
To help the process go by faster, other artists have volunteered to help Prassel and Trek Industries remake some of the assets for Orion so that they can "restore" the game as quickly as possible.
Prassel outlines more of what they're doing to remedy the situation over on the Steam page.
He also mentions that they're shutting down Trey Industries social media accounts since they're getting bombarded with a lot of activity... much of it negative.
The threads on Reddit are mostly against Trek Industries due to the history of the company. The PC Master Race threads in particular borderline on witch hunting, given that they feel as if Prassel may not be telling the whole truth. Alternatively, some people in the thread are questioning if maybe it was all an honest mistake by freelance artists and they mention to tread carefully because not all of the facts are out there.
Now in some of the comparisons it's easy to see where parts may have been lifted from Call of Duty games. In other comparisons -- for some of the weapons -- it appears as if the designs are similar but not quite the same.
Nevertheless, Prassel and the volunteers are attempting to fix the issue in Orion as quickly as possible. It's unfortunate that the whole thing turned into a big, public piece of soap opera drama between an indie developer and an AAA publisher.
Staff Writer at CinemaBlend.
Your Daily Blend of Entertainment News
Thank you for signing up to CinemaBlend. You will receive a verification email shortly.
There was a problem. Please refresh the page and try again.