Orion: Dino Horde Multiplayer Beta Starts This Week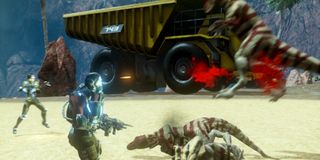 Spiral Game Studios has announced that Orion: Dino Horde will enter into its multiplayer beta this week. Gamers looking for a cooperative, dinosaur hunting shooter to play with friends or family will probably want to keep a close eye on Orion: Dino Horde.
The game is a sequel to the indie release of Orion: Dino Beatdown. The first game was Spiral Game Studios' first foray into the multiplayer dinosaur arena and it's safe to say that they got off to a rather rocky start. For the sequel they've added more maps, more weapons, more dinosaurs and the very cool feature to be able to play as the dinosaurs.
After a lot of work, time, testing, blood sweat and tears, the multiplayer beta will be open to anyone willing to participate, most notably those who already have the original Orion: Dino Beatdown. That's right, owners of the original game will get into the sequel for free.
In addition to making the barrier of entry that much easier for purchasers of the original title, Spiral has also knocked off the price of the original game by 33%, which means that if you buy the first game you're automatically keyed into receiving the sequel for free. It's like getting two games for the price of one. Can't really go wrong there, eh?
If you're looking to learn or see more of Orion: Dino Horde in action, feel free to check out the official website page or discuss the game on the forums.
Your Daily Blend of Entertainment News
Staff Writer at CinemaBlend.