All Of The Issues Plaguing Resident Evil 5 For Xbox One And PS4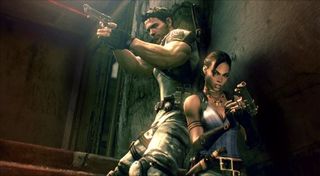 (Image credit: Capcom)
Capcom recently re-released Resident Evil 5 for the Xbox One and PlayStation 4. The game originally came out back during seventh gen for the Xbox 360, PS3 and PC. Well, the re-released version of the game launched with some issues plaguing the gameplay experience.
Gamespot is reporting that quite a few gamers have been having problems with Resident Evil 5 on the Xbox One and PS4. The most prevalent issue is frame-rate drops. This isn't just an aesthetic peeve, as frame-rate actually affects gameplay, input timings and hand/eye coordination. They don't say specifically how badly the FPS is dropping or whether or not it's happening only in certain segments or throughout the entire game, but it was bad enough to send people complaining to the official Capcom Twitter account about the issue.
There were also complaints about the second player being unable to access their inventory in Resident Evil 5. This was a pretty terrible issue when attempting to rearrange the items or assign specific weapons to a player, because it prevented gamers from organizing their inventory or purchasing new items for the second player.
Anyone who has played Resident Evil 5 knows how imperative it is to maximize the efficiency of the inventory space given how limited that space is. It requites a lot of micro-management and was easily one of the more tactical elements in the game that could make or break your survival in Resident Evil 5.
I can only imagine how frustrated a lot of gamers are knowing that they can't change the second player's inventory properly. The thing is, not being able to modify the second player's inventory also affects what the first player can have in their inventory, so it's just a rotten situation all the way around.
The inventory issue isn't just limited to the main campaign mode, though. Some players are also reporting that the Versus, Survivors and Team Survivors modes in Resident Evil 5 also causes players to lose their primary weapons. Now the thing about those modes is that inventory is usually automated for the playable characters, so if you lose a weapon you're basically fresh out of luck. As noted in the Gamespot article, a lot of players were left completely defenseless.
These issues were prominent enough to warrant Gamespot to reach out to Capcom about whether or not they would be addressing some of these problems in Resident Evil 5, and Capcom responded saying:
Hopefully they fix up those issues fast, because I can only imagine how frustrated a lot of gamers are knowing they bought the game on the Xbox One or PS4 and have to deal with issues that should have been resolved well before the game released digitally on either system.
Resident Evil 5 follows on the re-release of Resident Evil 6 for the Xbox One and PS4 earlier this year. Capcom will also be re-releasing Resident Evil 4 on the Xbox One and PS4 this fall, and that will be followed by Resident Evil 7 in early 2017.
Your Daily Blend of Entertainment News
Staff Writer at CinemaBlend.