Two New Heroes Will Be Coming To Injustice 2, Get The Details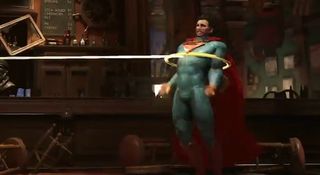 Two brand new heroes have been announced for NetherRealm Studios and WB Games' Injustice 2, the super hero fighting game based on the Mortal Kombat technology. The heroes, Blue Beetle and Wonder Woman, were revealed during this year's San Diego Comic-Con and were made present through a quick trailer.
The trailer went live over on the official Injustice YouTube channel, clocking in at just a minute and 36 seconds. It splits the time between both Wonder Woman and the Blue Beetle.
Wonder Woman is a returning character to the franchise, being one of the leads in the previous game. Like all the other characters in this iteration of Injustice, Diana has undergone some visual upgrades. We can see that since the game is still a year off from release, some of the rendering isn't completely finished. The shaders for Wonder Woman's hair are crude at the moment, only picking up two or three shades of the shadow renderer. We also see that there is some minor clipping and a slight lack of polish on the level of detail at a medium distance. These are all elements that will be tweaked and polished leading up to release.
As for the gameplay in Injustice 2, Wonder Woman looks superb. They seem to be drawing some inspiration of her costume and color designs from the upcoming Wonder Woman movie that's being directed by Patty Jenkins and due out next year in 2017. Her colors on some of her outfits in the game really pop, with the bronze and silver shield glistening in the light with her Lakonian sword prepped and ready for battle.
The trailer first shows us how Wonder Woman can string together some sick combos using her fists, legs, sword and shield. Each of her weapons can be utilized in different ways to whip up maximum damage on an opponent. Most impressive, however, is how Wonder Woman uses her lasso in this game. As opposed to her basic brawling in the original Injustice: Gods Among Us, in the sequel we see a lot more technique and individuality applied to Wonder Woman's fighting skill.
The one thing that absolutely roped me in was how smooth her lasso combinations and grab attacks are. The slight mix of Roman-style swordplay with a hint of Shaolin jiu jie bian whip techniques blew me away. We don't often see that in fighting games, plus I absolutely love the Shaolin chain whip as a weapon since it was my preferred tool of destruction in Dynasty Warriors Online. So it's awesome to see NetherRealm paying that style of fighting a bit of love with Diana's lasso in Injustice 2.
We also get to see a few of Wonder Woman's alternate outfits and unlockable armor set pieces; this ranges from her New 52 gear to her classic armored swimsuit, to her Greek Spartan garb. It's a nice mix of different elements that will appeal to new and old fans alike.
The Blue Beetle is also making an appearance in _Injustice _for the first time, utilizing a lot of techniques and moves based on his _Mortal Kombat _counterpark, D'vorah. Hilariously enough, both of them utilize bug-inspired tentacles to attack their foes. Blue Beetle gets a bit of a one-up on D'vorah with his tech and flying abilities. We also see various forms of his armor at play, all of which are beetle looking in design.
You won't be playing Injustice 2 anytime soon, though. The game isn't due for release until early 2017 for the Xbox One and PS4.
Your Daily Blend of Entertainment News
Staff Writer at CinemaBlend.