Injustice: Gods Among Us Ultimate Edition Officially Announced, XB1, Wii U Versions MIA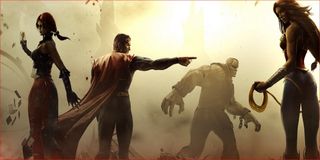 For a while now we've known that Injustice was getting a Ultimate Edition. There were multiple leaks leading up to today's announcement and the leaks all confirmed the same thing: Injustice was being re-bundled and primed for release on the Xbox 360, PS3, PS4, Xbox One, Wii U and PC. Well, two of those consoles have been removed from the equation... why? We don't know.
IGN is reporting that Warner Bros. Games has made the announcement official: Injustice: Gods Among Us Game of the Year Edition will launch at the end of November, the release date is for the PAL edition, which will arrive on the 29th. Presumably, that would mean that the NTSC version will launch on the 26th, the Tuesday of that very same week.
The article details that the game contains all the previously released DLC, as we mentioned in a previous article, and it will cost £49.99 / $59.99 on current gen consoles and PS4, £29.99 / $49.99 on PC and £29.99 / $39.99 on the PS Vita.
In addition to this, 40 bonus character skins and 60 S.T.A.R. Labs Missions will be included in the Ultimate Edition, and according to Warner Bros., it's a $120 value contained in a $60 package... not bad. The NTSC version will also come with the official soundtrack jammed in there, so you can listen to your favorite tunes from the game while you do other stuff... like fish through forum boards to find out what the heck happened to the Wii U version.
Before getting to the obvious parts of the headline, I would also like to point that Netherrealm has been doing some work on Injustice as far as next-gen outings go. Injustice will get a slight graphics boost and touchpad support for the PS4 release of the game. There will also be included live-streaming options and included support for the PSN Feed page so you can easily upload and share content between matches.
Now all that stuff is fine and dandy – and what I'm about to say might actually surprise the Xbox fanboys – but why the heck isn't any of that included in the Xbox One version and why isn't there an Xbox One version? I mean, streaming, sharing and watching TV on your TV is what the Xbox One is all about and these features, and the game itself, is just completely skipping out on Microsoft's next gen console.
Maybe Warner Bros., didn't want to spend the extra money to port the game over? Even still, I could forgive an Xbox One version being absent from the list but not a Wii U version. Injustice released for the PS3, Xbox 360 and Wii U earlier this year and it makes no sense whatsoever why the Wii U would miss out on the Ultimate Edition. I mean, the game was already done!
It also seems like a missed opportunity on Warner Bros., part given the fact that the Wii U is primed to move a lot more units this fall thanks to a strong line-up of first party games and the new bundle pack being made available with Wind Waker HD.
More than anything, a fall UE release of a popular fighting game would make a lot more sense for Big 'N's console as opposed to when it released earlier in the year.
Anyway, Warner Bros., has spoken and the Wii U and Xbox One aren't getting any love this holiday season when it comes to the Ultimate Edition of Injustice: Gods Among Us. Hopefully, as some gamers have suggested, this is just a timed exclusive for the PS4 and it will release later on for the Wii U and Xbox One.
Your Daily Blend of Entertainment News
Staff Writer at CinemaBlend.