How One Counter-Strike Gambling Site Plans To Stay Open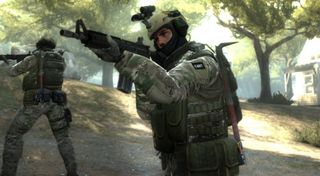 (Image credit: Valve)
The Counter-Strike: Global Offensive gambling rings have been turned upside down. Valve is cracking down on them and attempting to shut them down, but one site plans to stay open by going legit.
Over on the CSGO Lounge website, the owners posted up a message to the community about their betting services for Counter-Strike: Global Offensive and for Dota 2. They state that they're attempting to get an officially sanctioned gambling license to operate legitimately and continue their services as normal. However, in the meantime, they're limiting the betting portions of the site until they get licensed, stating...
They plan on implementing a more secure registration form to comply with most gambling regulatory bodies and to ensure that only those over the age of 18 are eligible for using the site.
They also state that the site was never intended for real-money betting, explaining...
This has been stated often in defense of online betting and trading when it comes to digital items in games like Counter-Strike: Global Offensive, that it's all virtual and therefore legal. However, according to many state laws here in the United States, digital bets with real currency is still considered gambling. In fact, during the original kerfuffle that spawned from Trevor "TmarTn" Martin and Tom "ProSyndicate" Cassell and their CS:GO Lotto website, which was operating out of Florida, on the U.S., Gambling Laws website, it clearly states...
Given that the Counter-Strike gambling sites used money from the Steam Wallet -- which is real world money deposited into a Steam account -- and the money was then used in a game of chance to bet on and win skins in Counter-Strike, that still counts as gambling under most state laws here in the United States.
What's more, is that while certain gambling sites such as CSGO Lounge may not facilitate real-world money withdrawal, many users who bet and win high-value items use gray or black market services to sell accounts based on the estimated value of the items they acquired. So if you manage to bet on and win a skin worth $4,000 real life dollars, you could then turn around and sell the account with that skin for around $3,500.
This sort of thing happened often enough that Valve had to update their terms of service and subscriber agreement to ban account selling.
Bloomberg reported that the gambling ring business for games like Counter-Strike is worth an annual $2.3 billion.
Nevertheless, CSGO Lounge is attempting to get a license to operate in territories that allow for betting so that they don't have to shutdown. Other Counter-Strike gambling sites have already closed up shop after Valve sent out a cease and desist for any site using their OpenID API to integrate their gambling services with the Steam user IDs, giving those sites 10 days to close down lest they bring legal action down around their ears.
Despite some of the sites closing up shop, the parents of kids under 18 who were solicited to by YouTubers have already begun talking to lawyers about civil lawsuits (and in the U.S., it's illegal to solicit minors for gambling), others have tried targeting Valve for facilitating the tools for gambling without stepping in to shut down the sites, as reported by PC Gamer.
After the FTC was notified about the gambling rings, and after lawyers started getting involved for civil suits, Valve did start putting their foot down more firmly against the sites.
What's interesting is that CSGO Lounge is trying to go legit, even though it was one of the two dozen or so sites that were sent the cease and desist by Valve.
While the betting portion of CSGO Lounge will be limited until they get licensed, they will still allow for standard player-to-player trading. Valve didn't clarify if they're okay with sites focusing mainly on trading, but they certainly aren't okay with the betting and gambling.
Your Daily Blend of Entertainment News
Staff Writer at CinemaBlend.