Pokemon Go Has A Porn Parody And Its Trailer Is All Kinds Of Wonderful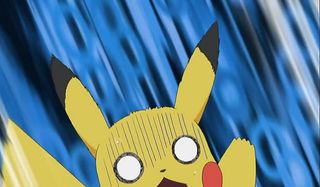 In case playing Pokemon Go isn't, um, erotic enough for you, the folks over at Brazzers have come to the rescue. There is now a Pokemon Go porn parody, because of course there is. There's even a semi-safe for work trailer, in case that's something you needed to kick-start your weekend.
Since there's a porn parody about pretty much everything under the sun these days, it probably shouldn't surprise me that Pokemon Go now has an adult adventure all its own. It shouldn't surprise me, yet it still does.
To be clear, Pornstar Go XXX is being billed as Brazzers' "very first" Pokemon Go porn parody so, if we're very, very lucky, we may have more of these to look forward to in the future. As you might have guessed from the title, this particular movie boasts "fan favorite adult talent" as well as Pokemon cosplay, because someone out there apparently needed this in their life.
I will, at least, give props to the official announcement for spinning the whole point of Pokemon Go on its head (which I understand is something that happens in scenes three and seven of the movie, too.) Since Pokemon Go is all about getting up and heading outside, Brazzers claims this particular experience is one you might want to stay inside to enjoy. We're going to have to agree with them on this one.
As for the movie's plot, such that it is, various adult stars have gone missing from the Brazzers lot. In order to find them, a porn fan by the name of Jordi decides to boot up his Pornstar Go mobile app to track them down and return them to their proper sets.
If nothing else, Brazzers certainly seems to understand the Pokemon Go craze. Along with a collection of Poke-parody porn stars running about, there are "annoyed neighbors" and "out-of-the-loop onlookers" confused by the game Jordi is...playing?
According to product director Mario Nardstein, a Pokemon Go porn parody was actually a big request from Brazzers fans. He said in a press release that folks were asking for something like this since the Pokemon Go trailer launched last year. His explanation included a lot more thinly veiled innuendo that I regrettably cannot share with you. Even in a story about porn, they go a little far.
Anyway, for those of you who are dying to check out a Pokemon Go porn parody, Pornstar Go XXX will arrive early next week, available through the Brazzers network beginning Aug. 8. In case you were curious, the film stars Jordi El Nino Polla, as well as Patty Michova as Vaporeon, Ella Hughes as Charizard and Alexa Tomas as Pikachu.
I may later regret asking this but, for now, feel free to share your thoughts in the comments section below.
Your Daily Blend of Entertainment News
Staff Writer for CinemaBlend.