You Might Be Able To Play Mortal Kombat XL On PC Soon, Here's What We Know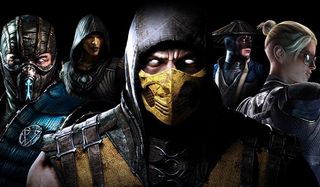 So it looks like the latest iteration of Mortal Kombat might be making its way to PC. That's great news for folks who were bummed to see Mortal Kombat X get the technical ax on the platform earlier this year and, for those who don't mind working with a rough build, you can actually take Mortal Kombat XL for a test drive right now.
If you venture on over to the Mortal Kombat X Steam Page, you'll not only find all of the usual info for NetherRealm's most recent fighting game, but you'll also notice a small announcement right above the "Add to Cart" button. The announcement states that folks can join the "free MKXL online enhanced beta" to help the developers improve the brawler's online gameplay. You've only got a brief window, though, as the beta ends on Monday, Aug. 29, at 10 a.m. PDT. So if that's something you're interested in, it sounds like your weekend plans are officially made.
The Mortal Kombat series has had a rough history on PC as of late. When Mortal Kombat X launched for the platform, it came with quite a few rough bugs for the online crowd. Apparently they were too big to squash, as NetherRealm and publisher Warner Bros. cut off technical support for the title back in January.
Flash forward to this weekend and it looks like there's still hope for the Mortal Kombat series on PC yet. Mortal Kombat XL, as you might have guessed from the title, is actually an enhanced version of Mortal Kombat X. It comes with everything the original game offered, as well as all of the DLC characters and some extra goodies. Think of it as the definitive edition of Mortal Kombat X.
Given the timing, we're kind of wondering if cutting support to Mortal Kombat X on PC was a direct result of the upcoming XL launch. If you know an enhanced version of a game is coming later in the year, maybe it seemed like a good idea to cut losses and put that extra time and resources into making sure the upcoming version was ready to roll right out of the gate. We're not super fond of that reasoning, but we can certainly understand if that was the business decision that was made.
We haven't tried it out ourselves, but it looks like all you have to do to get in on the Mortal Kombat XL beta is click on the provided link. We've looked around and can't find much on the forums about it, so we can't confirm if this is a wide-open beta or if you're limited to certain characters, modes and maps. If you've got any additional details, feel free to share them in the comments section below.
Staff Writer for CinemaBlend.
Your Daily Blend of Entertainment News
Thank you for signing up to CinemaBlend. You will receive a verification email shortly.
There was a problem. Please refresh the page and try again.