What You Need To Play Bioshock: The Collection On PC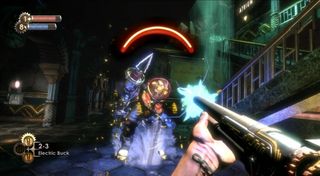 (Image credit: 2K Games)
If you plan on getting the BioShock remastered editions for PC there are a couple of ways of going about it, especially if you already own the original copies of the first two games. There's even a process involved with getting the remastered editions without paying a dime.
Gamespot is reporting that 2K has made some options available for PC gamers to go from BioShock and BioShock 2 to BioShock: The Collection without having to pay extra for them. If you already have a copy of the original BioShock in your Steam library you will automatically have the remastered edition from BioShock: The Collection added to your library. Things get a little bit trickier if you purchased the non-Steam version of the game that ran on Games For Windows Live.
If you haven't been keeping up with the times, Games For Windows Live is no longer used by any developers due to Microsoft abandoning support for the service. For some games that still require logins, it's possible to use your old GFWL account to access those games, but it's a wild shot in the dark for other titles. If you happen to still play the GFWL version of BioShock you'll need to still have the receipt on hand to show to 2K that you already own the game and then they'll upgrade you to the remastered edition of the first BioShock. If you don't have a receipt, you'll need to snap a photo of your GFWL access key or other proof of purchase. You can then submit the evidence through 2K Games' ticket system.
For BioShock 2 things are a lot simpler. If you still have the GFWL key you can use it on Steam to add the game to your library. For some other games that had this feature I tried adding them to Steam after they were removed from Steam but sadly this process didn't work. So apparently 2K is making sure that BioShock 2's GFWL keys will work without a hitch. Just use the "Activate A Product" tab in Steam to add the game to your library and it will enable the remastered version of the second game from BioShock: The Collection.
Now, if you own both games after 2K switched from GFWL to Steamworks and they're already in your Steam library, then you will automatically have both games upgraded to the remastered editions of the games from BioShock: The Collection.
Unfortunately BioShock: Infinite won't be included in the auto-upgrade if you already own the game. According to Gamespot, they're reporting that 2K Games have stated that the PC version of BioShock: Infinite "already meets current-gen console standards". So basically the PS4 and Xbox One are playing catch-up to the PC version of BioShock: Infinite that was released back in 2013.
The newly remastered collection is designed to give Xbox One and PS4 owners who didn't play the trilogy on the seventh gen systems (or PC) the opportunity to experience one of the best selling and critically acclaimed new IPs that launched last gen. Sadly there haven't been many new AAA IPs that have been made this gen that compete with some of the groundbreaking games we received last gen. Hopefully, things will change before eighth gen is over.
You can look for BioShock: The Collection to be made available (or to have your current Steam copies upgraded) starting September 13th for the PS4 and Xbox One, and September 15th for Steam users.
Your Daily Blend of Entertainment News
Staff Writer at CinemaBlend.