Paramount Plus Release Date, Price And 4 Other Things We Know About The Streaming Service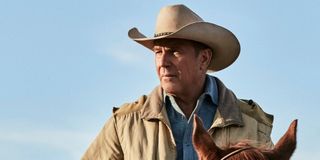 CinemaBlend participates in affiliate programs with various companies. We may earn a commission when you click on or make purchases via links.
Not too long ago, there seemed to a few main streaming services with dozens of niche options out there. In recent years (and even more so in recent months), it seems like we're getting a new streamer every week from countless media giants. And in no time at all, we will have yet another streaming service to add to our collection: Paramount Plus. In spring 2021, CBS All Access will switch over to the new name, new attitude, and new collection of original shows, exclusive movies, and all other sorts of streaming goodness.
But like with any new streaming service, there are a lot of questions about Paramount Plus including its launch date, how much it will cost, what will happen with existing CBS All Access accounts, and much more. To clear up any and all confusion regarding the new streamer, we've put together a quick guide of everything we know about ViacomCBS' latest venture into the streaming world.
Update: As of March 4, CBS All Access has switched over to Paramount Plus. You can sign up for Paramount Plus at this link.
So, What Is Paramount Plus Anyway?
Before we get into the new features of Paramount Plus and what we should expect from the service moving forward or even how much it will set us back each month, we should probably provide some key info for those not in the loop of every streaming platform being launched each month.
On March 4, CBS All Access will be no more and will forever be known by its new name, offering more than 30,000 episodes from shows originally broadcasted on ViacomCBS channels like BET, Comedy Central, MTV, Nickelodeon, and more. In addition to that, Paramount Plus will also be home to some pretty exciting new dramas and docuseries, but more on that in a bit.
How Much Paramount Plus Will Cost Subscribers
When Paramount Plus launches on March 4, you can expect to pay $5.99 per month for limited commercials or $9.99 per month for the more premium option with no commercials while you stream your favorite shows and movies. There is also an annual option that saves you around 15 percent and costs $59.99 annually for the limited commercial option or $99.99 if you don't want to be bothered with any ad breaks.
This is the same pricing structure as seen with CBS All Access, so current subscribers won't have to go over their finances with a comb to find some extra cash each month if they want to keep the service. And speaking of current subscribers, now's the perfect time to get into how the transition process will work once Paramount Plus launches.
How To Transition From A CBS All Access Account To Paramount Plus
You may be wondering if there will be a complicated process involved with transitioning your CBS All Access account over to Paramount Plus once the service launches, but according to a prelaunch video produced by ViacomCBS, moving things over will be fairly painless. On March 4, current CBS All Access subscribers will either need to go to ParmountPlus.com or download the Paramount Plus app on their preferred devices. After that you'll just need to use your login information and you'll be streaming in no time. New subscribers will go through the same process if they want to check out the retooled streaming platform.
All Of The CBS All Access Originals Are On Paramount Plus, Plus More
In recent years, CBS All Access has built up a healthy library of original programming with everything from the latest adaptation of Stephen King's The Stand to multiple titles set within the Star Trek universe. Those shows, and others like The Good Fight, aren't going anywhere with the launch of Paramount Plus. In fact, there will be even more shows added to the ever-expanding collection of shows, limited series, and other programs from Paramount.
Watch The Stand streaming on Paramount Plus here.
One of the first exclusives titles coming to Paramount Plus will be Lioness, a new gritty spy drama from Yellowstone creator and former Sons of Anarchy star Taylor Sheridan. The show follows a young Marine tasked with befriending the daughter of the leader of a terrorist organization in an attempt to bring it down from within. This exciting project is the first to come from the deal Sheridan signed with ViacomCBS in 2020.
As for Paramount's Yellowstone, the Kevin Costner series is not presently available streaming on Paramount Plus, however those looking to catch up on the first three seasons can find Yellowstone streaming on Peacock.
Another high-profile project in the works over at Paramount Plus is the upcoming drama, The Offer, which will tell the behind-the-scenes story of how Francis Ford Coppola's 1972 epic The Godfather came to be. The show will follow Al Ruddy, the man responsible for producing the eventual Oscar winner. Armie Hammer was originally signed on for that role, but the actor dropped out of the project in January 2021, per Deadline.
Paramount Plus will also be bringing back the long dormant music docuseries Behind the Music. Much like the original series launched on VH1 in 1997, the reboot, titled MTV's Behind the Music — The Top 40, will showcase the ups and downs of some of the industry's biggest and most iconic names.
The SpongeBob Movie: Sponge On The Run Will Be Streaming On Paramount Plus On Day One
The SpongeBob Movie: Sponge on the Run was originally supposed to be released in the summer of 2020, but Paramount (the film's distributor) pulled it off the domestic schedule and instead announced it would be streaming on CBS All Access and premium VOD services instead. The movie, which features some major players like Awkwafina, Keanu Reeves, Snoop Dogg, and Danny Trejo in addition to the cast from the Nickelodeon animated series, will be available to stream on Paramount Plus as soon as the streaming platform launches on March 4. Update: Watch The Spongebob Movie: Sponge On The Run streaming on ParamountPlus here.
The animated movie will also be joined by Kamp Koral: SpongeBob's Under Years, a 13-episode spinoff series focusing on the famous sponge's younger years at a summer camp, per Variety. This is the first time SpongeBob SquarePants has received a spinoff in its 22-year run.
Paramount Plus Also Includes Your Local CBS Affiliate And More
One of the best things about CBS All Access is the ability to watch your local CBS affiliate without having to buy an expensive cable package or deal with an over-the-air antenna. That feature will still be available with the launch of Paramount Plus on March 4. In addition to being able to watch shows like All Rise, Bull, and NCIS live, subscribers will also be able to watch feeds from CBSN (the 24-hour news network from CBS News), CBS Sports HQ, and ET Live on their own respective feeds through the streaming service.
With access to live programming, news, sports, and more, this is good a reason as any to sign up for Paramount Plus ahead of its launch.
How To Sign Up For Paramount Plus Right Now
As we mentioned above, on March 4, CBS All Access will be no more and will forever be rebranded as Paramount+. But you don't have to wait until Spring to sign up for Paramount+. You can still gain access to 30,000 episodes from shows originally broadcasted on channels like BET, Comedy Central, MTV, Nickelodeon, and more by using this link to sign up for Paramount+ at ParamountPlus.com.
Hopefully all this helps clear the air regarding the launch of Paramount Plus and what it means for those who already subscribe to CBS All Access as well as those new subscribers who were on the fence about adding another streaming service to their library of apps. If you want to see what all will be coming to the platform, as well as regular CBS, check out CinemaBlend's winter/spring 2021 TV premiere guide for all the latest.
Philip grew up in Louisiana (not New Orleans) before moving to St. Louis after graduating from Louisiana State University-Shreveport. When he's not writing about movies or television, Philip can be found being chased by his three kids, telling his dogs to stop yelling at the mailman, or yelling about professional wrestling to his wife. If the stars properly align, he will talk about For Love Of The Game being the best baseball movie of all time.