Blizzard Is Allowing Gamers To Change Their Battletag, But There's A Catch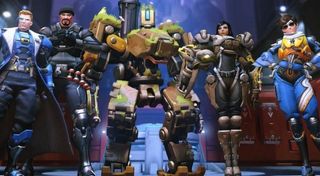 (Image credit: Blizzard)
Following in the footsteps of some other major game companies out there that allow you to change your universal gamer ID, Blizzard has implemented a new option to their cash shop that allows you to change your Battletag ID... but there's a catch.
According to Shacknews, you'll need to pay a $10 fee to change the Battletag ID. The good news is that the first time you want to change your ID it can be done for free. If you've always had your Battletag but you thought that maybe you need something more dangerous sounding for your high-level Elf in World of Warcraft, something more threatening for your Reaper main in Overwatch, or something more fun for your tag-team in Heroes of the Storm, the name change option is ripe and ready for you to abuse.
The Paid Battletag Change is available over on the Blizzard shop, and they explain on the official Battle.net website that the first change is free and can be done by heading to the Account Management Dashboard and clicking on the "Change" link under the account details of your Blizzard Battletag ID.
If you've already used up your free Battletag ID change but you've realized that you still aren't quite satisfied with your name, there's the option to pay for the ID change and have it modified for $10.
The highlight of the change is that -- as they mention on the website's FAQ -- you don't have to pick a unique ID. You can pick whatever ID you want and Blizzard will automatically add a numerical hash to your Battletag to create a unique identifier. Cryptic Studios had a similar setup in Champions Online.
The FAQ also mentions that nothing will change in regards to your friends list, and the only modification made is that they will see you under your new Battletag ID.
This isn't the first time that Blizzard allowed users to alter their ID. In World of Warcraft it was possible to alter your character along with changing servers. They've expanded that option now to make it where players can completely change their Battle.net Battletag, which affects how people see you across all of Blizzard's titles.
Microsoft has allowed for Gametag changes for quite some time, so gamers used to picking terrible names and then having to go back and change them won't find anything new here. In the case of the Xbox Live Gamertags, it also costs $10 to change the ID.
Some people might think this is a complete waste of resources, but hey... some people really like their names. A cool name can make or break first impressions or even work to intimidate your opponents. Never underestimate the power of a name.
You can make use of the new Battletag name change options right now. I imagine some gamers would probably rather use that money to buy a new emote in Overwatch or pick up one of those rare mounts in World of Warcraft. But if you really need that name changed, you can head to the Battle.net shop and pick up the Battletag change service item to begin the transformation of changing your Battletag ID.
Your Daily Blend of Entertainment News
Staff Writer at CinemaBlend.
Your Daily Blend of Entertainment News
Thank you for signing up to CinemaBlend. You will receive a verification email shortly.
There was a problem. Please refresh the page and try again.