Here's When You Can Join A Biker Gang In GTA Online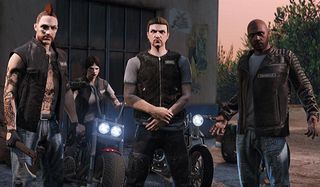 Grand Theft Auto V is still going strong, with the highly-anticipated Biker DLC set to arrive next week. Get ready for some two-wheeled action on the crazy streets of Los Santos.
It's kind of hard to believe, but Grand Theft Auto V came out in September of 2013, which means that the team at Rockstar have been pouring on extra content for a solid three years at this point. From extra vehicles, guns and swag to brand new modes and more, the game has evolved quite a bit in these past few years.
Starting next week, the evolution will continue with the introduction of Biker DLC. Set to launch on all platforms on Oct. 4, this new update will let you live out all of your bike-related fantasies, whether you're a Son of Anarchy or more of an Easy Rider type.
Grand Theft Auto IV actually had a whole new piece of narrative content focused on a biker gang, but it looks like GTAV will tone things down a bit in those regards. You won't be exploring the tale of a biker gang tearing up Los Santos and Blaine County so much as simply logging onto the game's online mode and creating adventures of your own.
The Biker DLC will include new competitive and cooperative gameplay modes, all centered around your metal steed. As you might have guessed, a whole bunch of new bikes are included in this GTAV DLC, as well as new gear and weapons to help you take care of your various tasks.
When the DLC launches next Tuesday, players will be able to form a club/gang of eight members. From there, you'll actually be able to take on different roles within the group, creating a hierarchy of power. If you want to be promoted within your gang's ranks, you'll need to impress your gang's president. That's sure to create some friendly rivalry.
Once you get a gang going, you'll have access to a special mechanic, as well as those new missions, facilities and the like.
Sadly, we still don't know what types of new missions will be available or why it's so important that bikes be included on the jobs. If the Biker DLC is anything like previous updates to GTAV, though, we imagine it will all be a heck of a lot of fun.
Our one request: Please give us a Road Rash mode. For those of you who are too young to remember, Road Rash was a series of games all about riding down the road on motorcycles, beating the stuffing out of your opponents on the fly. Races on bikes with the ability to attack your opponents would be great. So, yeah, Rockstar, just something to consider.
Your Daily Blend of Entertainment News
Staff Writer for CinemaBlend.
Your Daily Blend of Entertainment News
Thank you for signing up to CinemaBlend. You will receive a verification email shortly.
There was a problem. Please refresh the page and try again.