Wait, Rockstar Is Making A Stealth Co-op Game?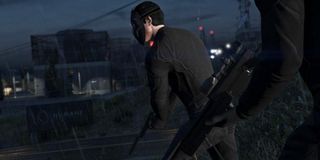 Rockstar hasn't indicated what their next game will be after Grand Theft Auto 5. However, a new job listing at Rockstar Toronto suggests that the studio's now making a stealth game.
The listing is seeking a gameplay designer with "advanced physical and digital prototyping skills to establish the pillars of the asymmetrical cooperative stealth experience." The ideal candidate, the posting says, also has experience with ragdoll physics and destructible environments. They need to have worked on "single-player and multi-player sandbox environments" for a minimum of two years.
Most of those details could fit any game in the Grand Theft Auto or Red Dead Redemption series. The mention fo "assymetrical cooperative stealth" is interesting, though. Assymetrical is a vague word that just means the experience is different from player to player. In terms of a stealth game, this could mean that a few players are trying to sneak around while others are hunting them down. Or maybe everyone's on the same team and simply playing different roles.
The fact that Rockstar Toronto is advertising the gig doesn't narrow down the possibilities. They're mostly known for porting other Rockstar studios' games to new platforms. For example, they made the PC version of GTA 4 and the Wii versions of Manhunt 2 and Bully. Rockstar Toronto was also one of many studios to work on Max Payne 3 and GTA 5. The last time they led development of a game was back in 2005 when they made the beat 'em up The Warriors.
Rockstar generally avoids announcing their games far in advance so it's hard to say what this new game will be. It would be great if it were Agent, that stealth-action game Rockstar announced for PS3 way back in 2007. However, we've heard zero about the game in years. Rockstar renewed the trademark for that title back in 2013 but they haven't said whether the game's part of their plans for this new generation of consoles.
You could also potentially make an argument that this new stealthy game is one of their existing franchises, like Red Dead, GTA or even Max Payne. They're not stealth games per se but it's conceivable that Rockstar could introduce some sneakiness into sequels.
Take-Two Interactive CEO Strauss Zelnick said last year that Red Dead 3 is a possibility, because they view RD as a permanent franchise:
After GTA 5's launch, Zelnick said that they've got "45 years worth of ideas we want to do" for that franchise so don't count out the possibility that Rockstar has started work on a sequel. "Assymetrical cooperative stealth" would certainly describe criminal heists.
Staff Writer at CinemaBlend.