Here's How You Can Create Your Very Own Skylander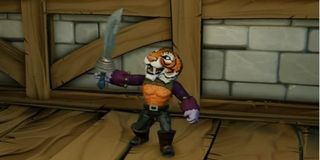 (Image credit: Activision)
Activision mentioned in the past that they would be sticking with the Skylanders franchise despite the toy-to-life market seemingly dwindling in recent months. They aren't just sticking with the franchise and churning out another game, though, they're giving gamers an opportunity to create their very own Skylander figurines.
Game Informer is reporting that Activision has a new app set to release for iOS and Android devices, where gamers can create their own Skylander for the Skylanders Imaginators game. It might sound like a standard companion app at first, but it's really quite ingenious.
You first design your Skylander, picking how they look, what their head is like, what their body type is like, what kind of weapon they use and what sort of attacks they'll have at their disposal. But creating the Skylander of your dreams in the app is just the beginning.
After going through the creation process there's an option to digitally import your creation into the actual Skylanders Imaginators game for home consoles. Yes, this means that you can move over your creation from one device to the next and play with your new hero in the actual game.
But wait, there's more! If you're keen on taking things a step further, you can actually order a collectible card that can also be read by the NFC device for Skylanders, allowing you to have a physical manifestation of your character in the form of a trading card. This means you could also take it over to a friend's house and also play with your custom character. The trading card will be available for $14.99, and it will take around two to three weeks to ship out. That's actually not a bad price at all.
But if you're the kind of parent who really wants to impress their kid, there's a $49.99 3D printed toy that can be purchased as well. After making the Skylander in the app you can then have the powers that be create a real life toy based on the creation, and it can be used in the Skylanders games, just like the other toy-to-life products currently available on store shelves from participating retailers.
I may not be the biggest fan of Activision or the Skylanders franchise, but allowing kids to create their own game hero and then giving them the option to have a physical manifestation of that hero in real life, is really awesome. Activision is sitting on a potentially huge revenue stream from this new avenue they're taking with Skylanders Imaginators.
Unfortunately, the toy version of your creation isn't really designed to be played with. The 3D printed figurine will come in a glass case and will be in the pose and carry the weapon that you assigned it during the creation process on the app.
Feedback on this announcement has been generally positive. Even some older gamers are relishing the news as their inner child emerges. This is the sort of thing that really makes gaming seem fun again.
Whether or not this risky move will pay off for Activision will depend on how well the upcoming Skylanders will sell on the market. You can look for the app to arrive soon on the iOS and Android, and you can look for Skylanders Imaginators to launch next week on October 13th.
Your Daily Blend of Entertainment News
Staff Writer at CinemaBlend.