Skylanders Swap Force Now Available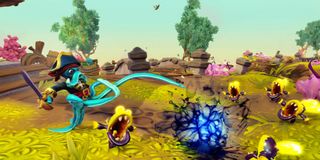 Skylanders Swap Force, the third entry in the toy-based adventure game series, has arrived in North America. Gamers can pick up the game on PS3, Xbox 360, Wii U, Wii or Nintendo 3DS.
In Skylanders games, players put physical action figures into the game world by placing them on a portal peripheral that ships with the game. Each action figure is a distinct character with its own set of powers. The $74.99 Starter Pack (opens in new tab) comes with three of these action figures. Players (or let's face it, their parents) can buy additional characters through stores.
Swap Force introduces 40 new characters for players to collect. The game also supports the use of characters from Skylanders Spyro's Adventure and Skylanders Giants. This means you can potentially use over 100 characters in the game.
In a twist on the usual formula, 16 of the new characters in Swap Force have top and bottom halves that can be swapped. Swapping these parts changes the movement and attack powers of the characters. This is an important feature in the game because some areas can only be accessed with certain movement types such as flying or climbing.
"Skylanders is a brand built on one thing: magic. With each and every Skylanders title, we want to deliver new, delightful innovations to our young fans that continue to blur the lines between physical and digital play," said Eric Hirshberg, CEO of Activision Publishing. "With Skylanders SWAP Force, we've taken this genre to a whole new level by giving players the greatest power of all: choice. In a franchise known for breakthrough innovation, I have no doubt that SWAP Forceis our most innovative Skylanders game yet. And we're thrilled to share it with fans of all ages all over the world today."
Swap Force can be played alone or with friends via drop-in/drop-out co-op. The game's campaign is supplemented with Battle and Survival modes designed for players who just want to hit something.
While Skylanders might be foreign to many players, it's rapidly becoming one of the largest franchises in gaming. The series has earned Activision over $1 billion in its first fifteen months. Skylanders' colossal success has inspired Disney to make their own toy/video game hybrid, Disney Infinity.
Swap Force is also coming to the Xbox One and PS4. The game will be available for each console on their respective launch days next month.
Staff Writer at CinemaBlend.
Your Daily Blend of Entertainment News
Thank you for signing up to CinemaBlend. You will receive a verification email shortly.
There was a problem. Please refresh the page and try again.