Skyrim Special Edition's System Requirements Aren't Too Bad At All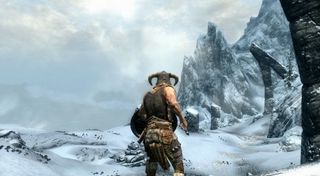 The Elder Scrolls V: Skyrim Special Edition is prepping for launch on PS4, Xbox One and PC on October 28th, at the end of the month. Ahead of the remastered game's release, Bethesda published the system requirements for the game on PC... and they aren't too bad.
Polygon picked up the news from over on the official Bethesda website where they announced that The Elder Scrolls V: Skyrim Special Edition has gone gold. That means that the gold master disc has been compiled with the game's finalized, certified code and they're shipping it off to the printing press for mass distribution. The site also breaks down what you'll need under the hood of your PC in order to run the remastered version of Skyrim effectively.
You can check out the minimum and recommended specs below.
Minimum Specs:
Windows 7/8.1/10 (64-bit Version)
Intel i5-750/AMD Phenom II X4-945
8 GB RAM
12 GB free HDD space
Nvidia GTX 470 1GB /AMD HD 7870 2GB
Recommended Specs:
Windows 7/8.1/10 (64-bit Version)
Intel i5-2400/AMD FX-8320
8 GB RAM
12 GB free HDD space
Nvidia GTX 780 3 GB /AMD R9 290 4 GB
The game boasts 4K textures and higher poly meshes and models for the characters and game world. The PS4 Pro version will also supposedly run at native 4K, although Bethesda was very coy about detailing the frame-rate.
The minimum specs likely won't allow you to run Skyrim's remastered edition at native 4K on PC, but 8GB of RAM isn't too bad and the i6-750 means most people with decent quad-cores will be able to get by. I'm almost convinced that if you only had 6GB of RAM and did some decent flushing and management you might even be able to get by with that for the game. And the reason I say that is because the GPU requirement is only a GTX 470, which is several generations old in terms of rendering output and is a six-year-old card.
So basically, anyone who has bought a new PC within the last six years will have no problems running the remastered version of Skyrim on PC.
It's interesting because the minimum specs for the remastered edition of the game requires a card that came out before the original Skyrim released back in 2011. Back then the recommended specs were a quad-core with 4GB of RAM and a GTX 260 or Radeon 4890. Due to adding things like god-rays, screen space ambient occlusion, dynamic depth of field (which is a basic post-processing effect that actually doesn't take up that much processing power), and new shaders for the water and snow (which actually do take up a lot of processing power) the specs had to double for the game.
The one thing that actually surprises me most is that the recommended specs for Skyrim's hard drive space is 12GB on PC while the required storage space on PS4 is 20GB in North America, 33GB in Europe, 17GB on the Xbox One in North America and 25GB for the Xbox One in Europe. It's weird but there's only a 3GB difference between the North American versions of Skyrim on PS4 and Xbox One, and so I'm curious if the PS4 Pro has different HDD requirements because a 3GB difference is not enough to encase the entire game world in 4K textures. That would likely only cover the ground and some foliage textures. And just for reference, 2K ground textures for Skyrim clock in at 1.8GB compressed.
Anyway, if you're keen on getting the remastered special edition of the game on PC, you won't have to worry about having a mega-rig to run the game. The most demanding spec would probably be the 8GB, but if you have a 4GB rig you can easily add 4 more gig for under $30.
Your Daily Blend of Entertainment News
Staff Writer at CinemaBlend.