You Can Get Fallout 4 For A Major Discount, Here's What We Know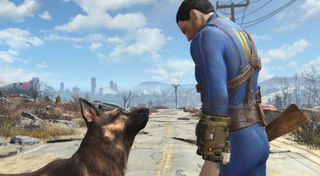 (Image credit: Bethesda)
Bethesda has a weekend sale currently going on for Fallout 4. The game and its accompanying DLC are all discounted over the weekend for every major gaming platform, including the PlayStation 4, the Xbox One and the PC. You'll only have a limited time to get in on the deal, so it's best to hurry.
Gamespot is reporting that all of the major releases of Fallout 4 and its accompanying DLC are currently available for for up to 50% off during a weekend sale. You'll find the discounts available across the Xbox Store, the PlayStation Network and on Steam for PC.
These discounts allow you to get your hands on the base version of Fallout 4 for 50% off, knocking it down from $59.99 to $29.99. The season pass is also discounted, available for 33% off for only $33.49. The season pass will grant you access to the Automatron, Wasteland Workshop, Far Harbor, Contraptions Workshop and Vault-Tec DLC packages. The season pass discount is marked down for 33% across all available platforms including the Xbox One, PlayStation 4 and PC. The season pass regularly sells for $49.99.
If you weren't interested in getting your hands on the season pass but you were interesting in only getting your hands on certain kinds of DLC, each of the packs are marked down for Fallout 4. The Far Harbor is only $16.74, cut down from the regular $24.99 price point. You can get the Vault-Tec, Contraptions and Wasteland Workshops for 33% off at only $3.34, marked down from the regular $4.99 price point.
Even the newer DLC for Fallout 4, such as the Nuka-World and Far Harbor content, are both marked down. You can get Nuka-World for $13.39 instead of $19.99. And you can get the Far Harbor for $16.74 instead of having to pay $24.99 for it.
Keep in mind that if you plan on getting all of the DLC without the season pass, even discounted by 33% off, it will still run you $80.33. I'm not one to advocate for season passes, but in this case you would be saving a lot of money just picking up the season pass instead of buying each of the DLC packs separately, especially considering that the Far Harbor costs more than the season pass.
But if you're not too interested in the Fallout 4 content, Bethesda also has previous entries in the laudable Fallout series discounted as well, including Fallout 3: Game Of The Year Edition, which is 40% off for $11.99, and the original vanilla Fallout 3, which you can get for 50% off for only $4.99 instead of the regular $9.99.
Obsidian's Fallout: New Vegas Ultimate Edition is marked down by 40% off from the $19.99 price point, so you can add it to your collection for only $11.99. The normal Fallout: New Vegas is 50% off for only $4.99.
This only applies to the digital copies of the game, so if you're not keen on fleshing out your console library with disc-less games, keep that in mind if you plan on diving into the weekend deal.
If you're on PC, you get the added bonus of picking up the original Fallout games, including Fallout 1, Fallout 2, and Fallout Tactics for $9.99, which is marked down by 50% off the normal price. PC gamers also get the added bonus of getting their hands on Fallout Tactics: Brotherhood of Steel for only $4.99. Be quick, though, because the deal is only good for this weekend.
Your Daily Blend of Entertainment News
Staff Writer at CinemaBlend.