Why Remastered Mass Effect Games Are Unlikely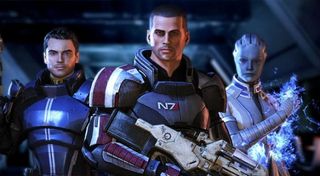 (Image credit: BioWare)
A lot of gamers have been asking about the older Mass Effect games being made available for the Xbox One and PS4. Instead, however, EA has treated fans to something a bit different by making Mass Effect 2 and Mass Effect 3 available as backwards compatible titles for the Xbox One, making the dream of remastered games highly unlikely.
Polygon is reporting that part of N7 day, November 7th -- a day representing a fictional event in the Mass Effect universe -- EA has announced that both Mass Effect 2 and Mass Effect 3 are now backwards compatible for the Xbox One. It's been a long time coming given that we were previously told that multi-disc Xbox 360 games were not backwards compatible with the Xbox One. However, Phil Spencer has been working really hard to change things around, and everything that some people said they couldn't do, they've either tried to do or have recently done.
When it comes to multi-disc backwards compatible games, Microsoft managed to make it happen, and now you can enjoy titles like the entire Mass Effect trilogy via backwards compatibility on the Xbox One. They join other multi-disc games such as Blue Dragon, Lost Odyssey and Deus Ex: Human Revolution -- Director's Cut.
But where does this leave the Mass Effect series when it comes to remasters? Next year the series will be a decade old, but so far EA has made no attempts at acknowledging that there will be remastered versions of the game. In fact, back in August EA VP, Patrick Soderlund, had mentioned that they were at least looking into the possibility of remastered Mass Effect games and that they were gauging interest based on feedback from the gaming audience.
However, Eurogamer reported back in September that EA executive Peter Moore mostly shot down news about potential remasters, saying that they could do remasters and make an easy buck, but they haven't done it... yet. Moore's comments were a little more concrete than Soderlund, saying that they didn't have teams "lying around" to put the time and work and effort into remastering the games.
The trick with remastering titles isn't just re-releasing them in a shiny package and slapping a $60 price tag on them, a lot of it boils down to how well they can redo some of the assets and make them in HD or ultra HD. Not every game was built on a foundation that can easily accommodate higher fidelity assets, so there's a lot of logistics that go into that. Obviously, with some games, they already have higher LOD assets on hand and they just crank up the graphics in the initialization code, similar to a lot of Unreal Engine games. But, other games are a bit trickier, and Moore apparently didn't think that it was worth the risks to go back and redo all three Mass Effect games.
Moore reiterated what he had said a year prior when he was also asked about remakes, and shot down the idea, with the reason being that EA was a company that "likes to push forward."
This doesn't necessarily mean that there will never be Mass Effect remasters, but, right now, it looks like while some of the talking heads in EA are interested in that possibility, they do seem to be focused on pushing forward. Perhaps the sales of Mass Effect: Andromeda could determine whether or not we see remastered editions of the original trilogy.
Your Daily Blend of Entertainment News
Staff Writer at CinemaBlend.