Death Stranding Has An Awesome Team Attached, Get The Details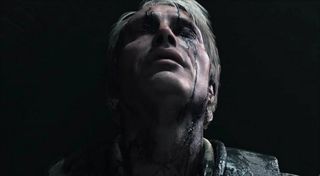 (Image credit: Kojima Productions)
Kojima Productions has finally settled on a game engine and have begun full production on Death Stranding, starring Norman Reedus and Mads Mikkelsen. They teased an in-engine clip of the game at this year's Game Awards show and another clip during the PlayStation Experience, along with revealing another studio they'll be working with for the game.
As reported by Gamespot, Kojima Productions has teamed up with Guerrilla Games to work on Death Stranding. The team up is more than just collaboration with trading assets and tips, Kojima Productions is using the core source code of Guerrilla Games' engine called the Decima Engine.
The Decima Engine is currently powering Horizon: Zero Dawn, the open-world sci-fi game featuring robo-dinosaurs. The game has a very distinct look -- bright and very environmentally atmospheric. The game that Kojima Productions is working on is not bright and happy at all, so the core of the graphics rendering had to be modified by Kojima's team in order to accommodate what they were doing with Death Stranding.
The Decima Engine already supports physically based rendering and volumetric entities, but Kojima wanted to turn the engine into what he was forced to leave behind at Konami. He wanted what they built into the Fox Engine, one of the most technically advanced pieces of software development technology this generation.
Given that the Fox Engine is owned by Konami, Kojima would not be able to use it for Death Stranding. It's currently being used for Konami's upcoming Metal Gear Solid: Survive, but it doesn't appear to be put to use for any other big, upcoming titles.
The highlight of the Fox Engine is that it can render photorealistic scenarios at 60fps in real-time based on 3D scanned photogrammetry on low-end hardware. It's a breakthrough in game engine technology. Kojima is attempting to bring the Decima Engine up to par so that it, too, can render scenarios in real-time with photorealistic quality.
During the presentation at the PlayStation Experience in Anaheim, California, Kojima admitted that the tech isn't quite there yet but they're iterating it at this very moment so that hopefully it will be equivalent to or maybe even surpass the quality of the Fox Engine by the time Death Stranding is ready to ship.
Kojima Productions and Guerrilla Games have plans on iterating the engine over time and upgrading it not just for Horizon: Zero Dawn and Death Stranding, but for future games as well. In fact, Kojima mentioned that they plan on working with Guerrilla in order to "travel to Jupiter" and hopefully venture "beyond", as far as software advancements and technology is concerned.
A lot of the characters and equipment in Death Stranding has been 3D scanned, similar to what they did with Metal Gear Solid V and the Fox Engine. They've already demonstrated very high-quality rendering capabilities with the Decima Engine by running the latest trailer in-engine, in real-time on the PS4 Pro hardware. So they've already achieved some impressive benchmarks so early on as far as fidelity is concerned.
Don't expect to see Death Stranding anytime soon on the market, as it's a long way out from release.
Staff Writer at CinemaBlend.
Your Daily Blend of Entertainment News
Thank you for signing up to CinemaBlend. You will receive a verification email shortly.
There was a problem. Please refresh the page and try again.