Watch Conan O'Brien And Terry Crews Hilariously Play Battlefield 1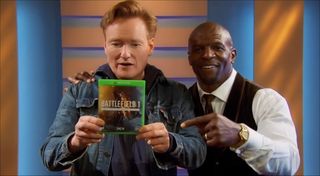 Late night talk show host Conan O'Brien has been rocking the Clueless Gamer schtick for years, and it's never failed to draw an audience. The series' latest target is DICE's Battlefield 1, set during World War I, and surprisingly Conan seemed to enjoy it.
The video was posted up over on Team Coco's YouTube channel, where they condensed the day-long play session down to a six and a half minute video of actor Terry Crews and Conan O'Brien taking turns running and gunning their way through the war-torn battlefield of Battlefield 1.
The premiere AAA title of the fall from DICE features incomparable graphics and visual fidelity, while throwing players into the trenches of the Great War.
Surprisingly, Conan didn't nitpick on the game's historical accuracies (or lack thereof), but seemed to be generally enthused and enthralled by the gameplay and intensity therein. Crews and Conan took turns blowing up trees, sniping soldiers and shooting down zeppelins in fighter planes.
They blasted through the single-player campaign mode, noted how fun and also how depressing it was. Every time they died they got to see how long their character lived and the date when they died, creating a somber atmosphere. They counteracted Battlefield 1's depressing tone by bringing in some bunnies, and petting in between all the killing and explosions.
Conan surprisingly had nothing really bad to say about DICE's remarkably well received shooter, and seemed to spend the majority of the time enjoying Terry Crews play and playing the game himself. Although, as a caveat, he did mention that he was a big World War I buff, so getting to dive into the game and see what they got right and what they got wrong was a big part of what he was looking forward to doing, but surprisingly he didn't actually criticize the game much.
Some gamers have complained that it's not a historically accurate depiction of World War I, and that DICE took a lot of liberties with Battlefield 1 in order to make it feel modern and play like a typical first-person shooter such as Call of Duty or Titanfall.
Nevertheless, the impression that Conan O'Brien gleaned from the game was that it was easy enough to understand and get engaged with, and they played through a few of the single-player chapters to get an idea of what was going on.
It's a far cry from Conan's time with Final Fantasy XV from Square Enix, where he stated it was the longest game session they had, and he didn't understand a darn thing that was going on with the game.
In this case, Battlefield 1 was a lot easier to follow, much simpler to play, and far more convenient to dive in and complete. This is one of the few games that Conan played that he actually enjoyed, with the other being The Witcher 3, thanks to the nudie scenes and all the boobs on display.
Staff Writer at CinemaBlend.
Your Daily Blend of Entertainment News
Thank you for signing up to CinemaBlend. You will receive a verification email shortly.
There was a problem. Please refresh the page and try again.