The One Place The Nintendo Switch Might Be Backward Compatible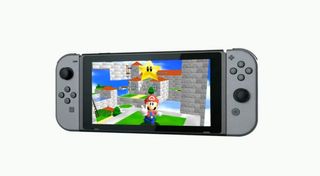 (Image credit: Nintendo)
Backwards compatibility has become a huge talking point throughout the last generation after the PS4 and Xbox One launched without the option. The feature was later implemented into the Xbox One, but now people are wondering where it'll fit with the Nintendo Switch.
Well, in an interview with Wired shortly after the live-stream presentation unveiling the Nintendo Switch's price and release date, Nintendo of America president Reggie Fils-Aime hinted at the one place the Nintendo Switch might be backward compatible... the Virtual Console.
This was in response to the Wired writer expressing concern about the digital crossover of Virtual Console games, for which they commented about people having spent $1,000 on various titles across the Wii and Wii U.
Reggie did seem sympathetic in a way, but it's tough to tell if Nintendo has a legitimate plan in place for those who purchased their games digitally and Reggie isn't allowed to say anything yet, or if he's just throwing a bone to people who have a lot invested in VC games and there's some other news regarding the Virtual Console coming down the pipeline.
This was something that popped up in various other opinion pieces and news articles prior to the January 12th presentation for the Nintendo Switch: what happens to all those Virtual Console games on your Wii and Wii U?
Many gamers have been asking for the ability to simply have their games read and moved over with their Nintendo Network ID, so this way they can take all of their digital purchases with them to the next console. It makes sense in theory, but in practice Nintendo hasn't committed to anything yet for the Nintendo Switch. We do know for sure that the system will not be backwards compatible for physical games due to the fact that it uses cartridges not discs.
A lot of these worries have popped up after gamers saw two very divisive approaches to digital content management from Sony and Microsoft. As mentioned at the top of the article, the Xbox One now features backward compatibility with Xbox 360 titles. You can even load in games that you purchased digitally on your Xbox Live account from your Xbox 360 straight to your Xbox One. The digital layover isn't just a theory in the Xbox camp, it's actually put into practice.
On Sony's end they opted not to use backwards compatibility, forcing people into the subscription service PlayStation Now. The PS Now service renders all your digital purchases void from previous generations, so you can't carry your games over from PS3 to PS4, despite being able to play PS2 games on your PS3 thanks to backwards compatibility.
We'll see which route Nintendo takes and whether or not their plans for the Virtual Console will include full, digital backwards compatibility or if they come up with some other alternative for the Nintendo Switch.
Your Daily Blend of Entertainment News
Staff Writer at CinemaBlend.
Your Daily Blend of Entertainment News
Thank you for signing up to CinemaBlend. You will receive a verification email shortly.
There was a problem. Please refresh the page and try again.