Blizzard Has Announced Their Next Overwatch Event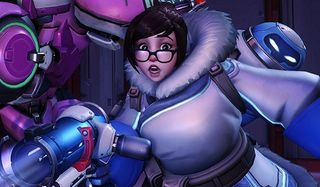 While many of us celebrated the New Year on Jan. 1, Blizzard is gearing up to ring in a fresh 12 months according to the Chinese Lunar Calendar with a special event in Overwatch.
Like any good online game, Overwatch keeps community events coming with regularity, giving players more and more reasons to keep coming back for new activities, skins and the like. The next big event for the breakout shooter is "Year of the Rooster," which was officially announced on the game's Twitter page.
Unfortunately, details are extremely scarce at the moment. The Blizzard team promises that good luck and great fortune await players of Overwatch, but we still have no idea what this latest event will actually involve. Still, we get a launch date of January 24, just four days earlier than the beginning of the actual Year of the Rooster on Jan. 28. We suppose that has something to do with sticking to the game's calendar of launching new content on a Tuesday rather than a Saturday.
The only other thing we know about this event is that, like pretty much every special Overwatch shindig before it, new skins will be a big part of the festivities. The announcement tweet boasts a picture of Mei in a great new outfit while folks have pointed out that the Korean Twitter account for the game has an image of D.Va and her mech, both dressed for the occasion.
Since this event kicks off next week, we imagine some additional details will be announced soon. Otherwise, it's likely the big draw will be a special game mode that kinda-sorta references something tied to the actual Year of the Rooster and maybe even a map or two with some festive decorations. We welcome your recommendation on which maps might be good for such a makeover in the comments below. If you're feeling especially creative, fill us in on good character/costume pairings, too.
We're all for these special events, but what we're really curious to find out is how Overwatch will evolve in 2017. It's already a great game but, if they want to keep players invested, we imagine they're going to have to up their game in the coming year. Again, all of the new characters, maps and skins are great and all, but we want to see Blizzard really wow us once again with this game. Maybe a new game mode we've never played before? Maybe some sort of legitimate campaign content?
Then again, maybe they're doing just fine with these regular events and want to keep the course nice and steady through the remainder of Overwatch's first year on the market.
Your Daily Blend of Entertainment News
Staff Writer for CinemaBlend.