How To Get In On The Splatoon 2 Open Beta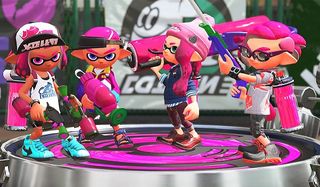 The Nintendo Switch's next big title isn't too far off at this point but, before Splatoon 2 can be unleashed on the masses, Nintendo is hosting a "global testfire" to make sure everything is up to speed. And with some minimal effort, you can get in on the fun, too.
If you've been perusing the Nintendo Switch's eShop, you may have noticed that there's an option to download a demo for Splatoon 2, the follow-up to the Wii U's popular multiplayer shooter. But don't worry, parents; while the game is technically a "shooter," it stars adorable squid kids and their weapons are basically Super Soakers and paint rollers that smear bright ink all over the place.
Anyway, if you haven't downloaded the demo yet, you'll probably want to get on that with a quickness. While the demo file has been available on the Switch for a while now, you can't actually load any matches yet. But that's all about to change this weekend. So, before tomorrow gets here, be sure to jump onto your Switch, head into the shop and click on the download button for the Splatoon 2 demo.
We're being so precious about time here because, as Polygon points out, the testfire will only be available for a very limited period, and you wouldn't want to waste any play time with downloading the demo instead, now would you?
Starting tomorrow, March 24, the Splatoon 2 testfire will only be live in small blocks throughout the weekend. We're guessing that Nintendo wanted to ensure that the most people were playing at any given period of time in order to test everything more efficiently, or maybe this is just another case of Nintendo being Nintendo. This is also basically the first big online game to go live on the Switch, so maybe they're just being cautious at this point. Either way, you'll want to mark your calendar with exactly six blocks of playtime through the weekend. Said times are listed below, and they're all in PT, so convert accordingly.
March 24: 12 to 12:59 p.m.
March 24: 8 to 8:59 p.m.
March 25: 4 to 4:59 a.m.
March 25: 12 to 12:59 p.m.
March 25: 8 to 8:59 p.m.
March 26: 4 to 4:59 p.m.
As you can see, that's just six hours of Splatoon action broken up over the course of three days. We wouldn't be surprised if quite a few dedicated Switch fans set a collection of alarms to make sure they're ready to play during each brief showdown, even if it means waking up at the crack of dawn on Saturday. Sleep is for the weak, right?
If you happen to get in some time with Splatoon this weekend, be sure to drop back by and let us know what you think in the comments below.
Your Daily Blend of Entertainment News
Staff Writer for CinemaBlend.