Rocket League Is Getting DLC For Fate Of The Furious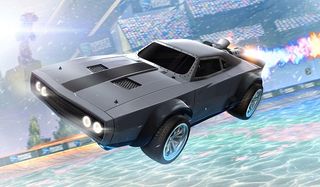 With Fate of the Furious gearing up to hit the silver screen, you can bring a little flavor from the film into your own garage in Rocket League. It's safe to say that the latest promotional partnership from everybody's favorite car-powered soccer game would make Dom Toretto proud.
The team at Psyonix recently launched the above trailer, showing off the Ice Charger from the upcoming film Fate of the Furious. For those of you who have been keeping up with the film and its own trailers, you might recognize that four-wheeled beast as the armored Dodge Charger that series protagonist Dom Toretto drives while waging roadway war against the members of his former crew.
The trailer is a shorty but a goodie, showing off the new ride in action with a thumping tune playing in the background. Since some of the new film's biggest action sequences take place on a massive ice field, it's appropriate that the snowy map from Rocket League is utilized here. As the trailer points out, this DLC is available as of today, whereas the film will hit theaters next Friday, April 14. In other words, you've got a good week to get comfortable with the Ice Charger before seeing it in action on the big screen.
If you're looking to pick up this latest Rocket League DLC, it'll set you back $1.99 across the PlayStation 4, Xbox One and PC versions of the game. It's more than just the new car, though. You'll also get a set of premium wheels to use on the Ice Charger (or any other car in the game), as well as six new decals to pimp your ride. They include Clean Cut, Crazy Sandwich, Flames, Rakugaki, Rally, and CCCXL. Unfortunately, images were not available for us to see what those new bits of flair actually look like. Obviously, the Ice Charger will be as customizable as all of the other vehicles in Rocket League, so feel free to paint it orange, add spiked wheels and an 8-ball antenna topper.
This is only the latest collaboration to make its way to Rocket League, a game where you can also drive vehicles ripped from Back to the Future, Twisted Metal, Batman and more. Seeing as how Psyonix continues to support their hugely popular game with free maps and modes on a regular basis, it's no surprise that these kinds of cosmetic DLC appear to be doing really well in the game. Support the community and the community will support you, it seems.
So what do you think of the new ride? Will you be picking it up before diving back into Rocket League? Let us know in the comments below.
Staff Writer for CinemaBlend.
Your Daily Blend of Entertainment News
Thank you for signing up to CinemaBlend. You will receive a verification email shortly.
There was a problem. Please refresh the page and try again.