Rocket League Has Made A Ton Of Money So Far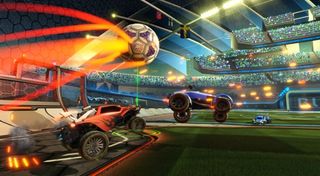 The team at Psyonix has a lot to be excited about these days. Not only has their indie sports game, Rocket League, proven to be hugely successful across three platforms, but the team's latest report is that the game has made the studio a rather significant chunk of change, too.
Rather than beat around the bush, we'll just jump straight to the figure: Rocket League has pulled in more than $110 million since the game launched last fall. That's a substantial number no matter what game we're talking about, but it's especially impressive when several factors surrounding Rocket League are taken into consideration.
For starters, Rocket League is a sequel to a game that didn't exactly take the previous generation by storm. Secondly, it's an indie title, meaning it comes from a smaller studio with a budget that simply can't compete with AAA projects. Thirdly, the game was initially released as a PlayStation Plus game for the PS4, which means that the first audience didn't pay anything extra for the game on top of the subscription fee for Sony's premium gaming service.
It turns out that Rocket League appearing on Plus was likely a huge catalyst for its success, as there's no telling how many people played and then raved about the game online who, had it cost $20, probably would have never given it the time of day.
This latest milestone from Psyonix comes from vice president Jeremy Dunham, who recently spoke with Forbes about the game's astronomical success. According to Dunham, Rocket League was sitting pretty at the end of 2015, having made $70 million with four million copies of the game sold.
With Rocket League launching in July of 2015, we're still not quite a year out from when the game first hit virtual shelves. Since then, it's also made its way to PC and the Xbox One, helping lead to this new earnings watermark and a full 5 million units sold across all platforms. It's also breaking new ground in allowing the PC crowd to play with either the Xbox One audience or PlayStation 4 audience. There's talk of all three consoles playing nice one day, but nothing definite has happened on that front.
According to Dunham, Rocket League's sales continue to grow, which he admits is uncommon for a game that's 10 months into its life cycle. That probably has a lot to do with a flourishing DLC plan. Psyonix continues to deliver updates and modes free of charge, while offering all sorts of cosmetic items at a small cost. I've witnessed many gamers stating that they continue to support Rocket League through DLC either because they got it for basically free though Plus or want to support a developer who is so forward thinking when it comes to their community.
No matter how you slice it, Rocket League has been a major success. And based on the way things are going, it seems like that success is only going to continue to grow.
Staff Writer for CinemaBlend.
Your Daily Blend of Entertainment News
Thank you for signing up to CinemaBlend. You will receive a verification email shortly.
There was a problem. Please refresh the page and try again.