Check Out Splatoon 2's BMX Inspired Map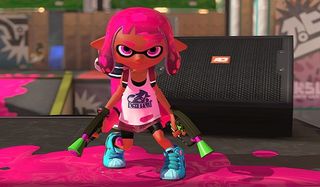 Following the recent open beta on the Nintendo Switch, more Splatoon 2 news continues to roll out, including details on the new maps players will be able to coat with ink once the game finally launches. A recent video from Nintendo UK just so happens to go into detail on one of those new battle zones.
Welcome to Humpback Pump Track, the unfortunately named new arena for Splatoon 2. This BMX park boasts all sorts of nifty features, including rolling plywood hills, towers aplenty and just enough verticality to keep things interesting.
While a group of Jellyfish ride their way through the background, the Inklings will instead use this arena as their own personal canvas of war. There's plenty of surfaces to cover in ink here, with lots of nooks and crannies and tight corridors perfect for keeping the fights interesting.
It's only a brief look at what's coming to Splatoon 2 but, for series fans, that's probably enough to tide you over until the next major reveal.
As pointed out in the video's comments, this is a pretty large arena by Splatoon standards, which probably speaks to the boosted power of the Nintendo Switch. Bigger maps with more dynamic features are always welcome in modern shooters, even if said shooter boasts hip, teen ocean wildlife dousing the world with Super Soakers filled with brightly colored inks.
While we still don't have an official launch date for Splatoon 2, the recent beta gives us reason to believe we're not too far off. If we had to make an educated guess, we'd put our money on early fall, or maybe even a summer launch if Nintendo wants to shake things up a bit. And, they're Nintendo, so that's always a possibility.
With Mario Kart set to hit the Switch soon and Mario Odyssey primed to be the big holiday attraction, early fall would give Splatoon 2 a nice little window to bring in as many players as possible. Plus, holding off a bit longer would mean Nintendo gets to show off Splatoon 2 as one of their headlining titles at upcoming shows like E3, which would be good for buzz and keeping the hype high during a not-super-packed first year on the market.
Along with new arenas, Splatoon 2 also boasts some new gear, including dual-wielded Splat Dualies pistols. Believe it or not, the original Splatoon also had something of a narrative to follow, which Splatoon 2 will continue when the full game finally arrives. Also, along with the game's community-driven features being pushed to an app, Nintendo has announced they will continue to support Splatoon 2 after launch with DLC.
Here's hoping we get another video showing off additional maps soon.
Staff Writer for CinemaBlend.
Your Daily Blend of Entertainment News
Thank you for signing up to CinemaBlend. You will receive a verification email shortly.
There was a problem. Please refresh the page and try again.