Here's What's New In Mario Kart 8 Deluxe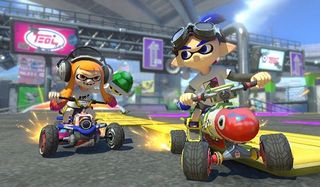 If you were paying attention during last night's Switch event, you probably noticed that Mario Kart was shown off in the background, though not formally announced. That all changed today with the official launch of a new trailer for Mario Kart 8 Deluxe, complete with a bunch of nifty additions.
As you might have guessed, Mario Kart 8 Deluxe is a beefed up version of Mario Kart 8 for the Wii U. Rumors have been circulating that Nintendo planned to bring some of the Wii U's biggest games to the Switch and, with this latest announcement, it looks like that's the case.
As for what you can expect out of MK8D, the team at Nintendo Treehouse this morning went down all of the details. For starters, everything in the core game will be included, as well as all DLC characters, tracks and karts from properties like Zelda and Animal Crossing. On top of that, players will have access to a quartet of new characters such as King Boo, Dry Bones, Inkling Boy and Inkling Girl of Splatoon fame. New vehicles include the Splat Buggy, Ink Striker, and Bowser Clown Car. While no new courses were specifically announced, we could have sworn some of the tracks on display during the Treehouse were new to the series, but don't quote us on that one.
Finally, the game will be changed up a bit with the ability to hold onto two items while cruising around and, yes, the classic battle mode has made a return. Instead of riding around on standard tracks trying to pop balloons, you'll now be confined to battle arenas that look to mix some new designs with classic levels from previous games.
The interesting thing is that the trailer actually went live late last night, though Nintendo never made mention of it during the official Switch event. Thankfully, the Treehouse crew had the game covered, giving it the time and attention it deserved during this morning's more in-depth look at some upcoming Switch games.
While this enhanced version of Mario Kart 8 won't make the March 3 launch date, it will at least be hot on the heels of Nintendo's new console. Look for it on April 28, only about two months after the console first drops. And while Nintendo's Switch launch lineup is looking pretty slim right now, we imagine that new Zelda should keep you busy right up until race time.
We're pretty stoked to see that Nintendo is indeed bringing a handful of Wii U games to its latest console, as they never really had the chance to shine on that last platform. With a little luck, they'll enjoy a long and happy second life on the Switch.
Your Daily Blend of Entertainment News
Staff Writer for CinemaBlend.