The Last Of Us 2 Added A Westworld Actor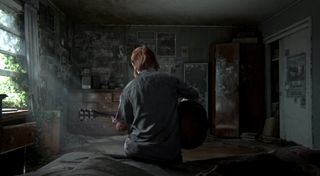 Gamers have been clamoring for any and every bit of information regarding the upcoming Last of Us Part 2. Well, a new piece of information has surfaced and it has left gamers asking even more questions, especially since it was revealed that an actor from HBO's Westworld has joined the cast in Naughty Dog's upcoming thriller.
Gamespot is reporting that Shannon Woodward from Westworld will be playing a character in the upcoming Last of Us sequel. The news was originally made public over on Woodward's official Twitter account, where she revealed herself in a studio with the motion capture suit on in a room with director Neil Druckmann.
While the picture doesn't give away anything and we have absolutely no idea who Shannon Woodward is playing or what her role will be in the game, there are a few things we can glean from the photo based on what's not there.
For one thing, we don't see any performance capture gear on her face or head. So they won't be capturing the faces this time around. They also didn't do that with the original Last of Us, opting to use a variety of techniques to animate the faces separate from the performance capture that took place on the motion capture stage.
Additionally, it doesn't look as if they'll be using any of Shannon Woodward's facial data during the capture based on the screenshot. Usually if they're making characters in the game made to look like the real-life actors or to animate them in a similar way, they mark the actor's key kinetic points on their face, just like with games such as Beyond: Two Souls. This allows them to map the movements of the actor's face during performance capture to the alignment of the 3D face's mesh.
In this case since Shannon Woodward's face wasn't marked up, it seems unlikely that they'll be using her actual face for reference in The Last of Us 2.
Then again, this could have been a performance test or a fitting session. In that case they likely wouldn't have marked her face, assuming they were using it for capture purposes.
At the end of the day, we obviously don't know if this was an actual shooting session or just a test. If it's the former then we can at least safely know that Woodward is playing a character in The Last of Us 2 that doesn't exactly look like her. If it's the latter then we can pretty much expect anything.
Naughty Dog is currently hard at work on the sequel, and Gamespot notes that Shannon Woodward isn't the only alum from Westworld who is part of the credits of The Last Us sequel... writer Halley Gross is also on board to help flesh out the script.
There's a lot of anticipation for the game following the critically acclaimed outing of the original. We do know that this time around that players will be in charge of Ellie for the most part, instead of Joel, but we have no idea what the actual story is about other than that Ellie is on a hunt to get revenge.
The Last of Us Part 2 has no release date and it's quite a ways off from release, according to Neil Druckmann.
Your Daily Blend of Entertainment News
Staff Writer at CinemaBlend.
Your Daily Blend of Entertainment News
Thank you for signing up to CinemaBlend. You will receive a verification email shortly.
There was a problem. Please refresh the page and try again.