This Bayonetta 3 Rumor Seems Like A Real Stretch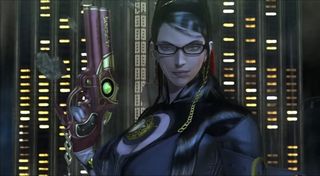 (Image credit: Sega/Platinum Games)
Sega and Platinum have been acting a little odd lately with their promotion of Bayonetta on PC. Why is it odd? Well, some of their behavior has led people to believe that Bayonetta 3 could be on the horizon, even though it seems like a real stretch.
Polygon is reporting that a lot of fans have jumped onto the Bayonetta rumor train for a possible threequel after Platinum Games posted up a blog over on their Japanese website. The blog is an English teaching lesson using various phrases from the Bayonetta game.
For instance, they explain how to say things like "Do you naughty little angels deserve a good spanking?" The syntax in Japanese is wildly different than English, so they have to explain what the closest meanings to some words are in Japanese expressions, while explaining how the English is structured by showing clips of Bayonetta saying the phrase. It's kind of funny, because, while explaining "Naughty," they take an opportunity to use Naughty Dog, the makers of the Uncharted series, as an example of what the word means.
However, the English lessons use videos that repeat the phrases three times. A lot of gamers thought this was an odd way to go about things. Why have Bayonetta repeat the phrases three times in short clips?
As noted by Polygon, the community began wondering if the triple-repeat of each phrase meant that Sega and Platinum were hinting at Bayonetta 3.
It seems like a pretty big stretch. If you do any sort of language learning exercises there's oftentimes the repeated use of phrases or words in order to help people understand enunciation, pronunciation and elocution.
In this case, it seems really hard to believe that this particular lesson would relate to a third Bayonetta game being in the works.
Some people thought it was part of a build-up of promotion given that Sega and Platinum also hid a Vanguish avatar picture in the PC version of Bayonetta, and, previous to the release of the PC version of the game, they released an 8-bit teaser version on April 1st.
So, now everyone is excited because they think Sega might have a big reveal to make at E3 this year. To be honest? That's actually not an impossibility, nor is it all that improbable.
Sega may have been taking their time with releasing big budget AAA titles these days, focusing mostly on managers, simulators, Sonic games, and real-time strategy titles from Creative Assembly, but, given how much love people have shown them for Bayonetta, and how much hype is surrounding the potential PC release of Vanquish, maybe they're reexamining their position on AAA games and possibly gearing up for something big?
Sega has picked up a lot of positive momentum lately, especially with the upcoming release of Sonic Mania due to drop this summer for Xbox One, PS4, PC and the Nintendo Switch, and Sonic Forces due for release later this year, it would actually be a pretty good time for them to announce another new entry either in the Vanquish series or possibly a new Bayonetta title. For now, though, the link between the English lessons on the Platinum blog and the possibility of a third Bayonetta title are tenuous at best.
Staff Writer at CinemaBlend.
Your Daily Blend of Entertainment News
Thank you for signing up to CinemaBlend. You will receive a verification email shortly.
There was a problem. Please refresh the page and try again.