The Creators Of Burnout Are Making A Spiritual Sequel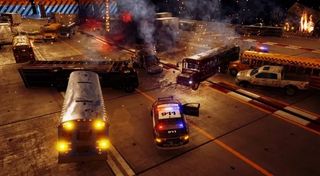 If you were a fan of Criterion Games back when they were one of the premier development studios working on the Burnout series during the sixth generation of gaming, then you'll be pleased to know that the original creators of Burnout are working on a spiritual successor to the game.
According to Polygon, Three Fields Entertainment is currently developing a game called Danger Zone. The article notes that the original founders of Criterion, Fiona Sperry and Alex Ward, are leading a small team working on the physics-based crash-course game that takes place inside of a virtual crash testing facility.
The article points out that Sperry specifically said that their studio, Three Fields Entertainment, will be drawing from what helped put them on the map in the first place when they originally founded Criterion Games. While the latter studio is but a shell of what it used to be (Criterion has been relegated to fleshing out the space battle segments in the upcoming release of Star Wars: Battlefront II later this year) the former studio is about pushing forward the industry where they last left off with Burnout.
They mention that Danger Zone will be an evolution on the Crash Mode from Burnout 3: Takedown, involving arcade-style, physics-driven crashes that have a bit of a puzzle element to them. The concept of the game will center around completing 20 different scenarios that have vastly different layouts and varying traffic conditions. The object of the game is to find a way to create the biggest crash possible.
The object will be to chain crashes and blow up as many vehicles as possible within each scenario. They have plans on releasing Danger Zone this May for only $12.99 on PC and PS4.
While the idea of a new Burnout game seems super sexy, there's just one problem: the Crash Mode in the previous Burnout games were always great time wasters outside of the actual racing. In other words, it was a tertiary feature that people took a dive into while also thoroughly enjoying the actual race modes. It was similar with the physics-based driver mini-games in the Flatout games, where players could eject the driver in a series of ridiculously over the top mini-games. It wasn't that the feature could carry the whole Flatout series, but it was definitely fun in small spurts in between races.
If there is no actual race mode in Danger Zone I do worry that this could end up being one of those novelty games where you play it with friends for a bit but you don't actually put much time in outside of it being a party pastime game. Hopefully I'm wrong and there's enough content spread throughout the Burnout successor that offers gamers something highly replayable and very satisfying.
Also, if the game manages to sell well enough, maybe we'll see some more modes added in and some additional race tracks and features added to the sequel. As we all know, we could definitely use some more high-end arcade racing titles since Burnout has been shelved for now and Bugbear is just barely working on Wreckfest these days.
You can look for Danger Zone to launch digitally this May.
Staff Writer at CinemaBlend.
Your Daily Blend of Entertainment News
Thank you for signing up to CinemaBlend. You will receive a verification email shortly.
There was a problem. Please refresh the page and try again.