The Reason Microsoft Was So Quiet About The Phantom Dust Remake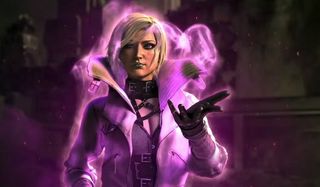 Microsoft has finally broken silence on the upcoming Phantom Dust remake, sharing all sorts of interesting bits of information about the card-collecting/multiplayer brawler hybrid. One of the biggest reveals at this point is actually why they've been so quiet about the project up until now.
In speaking with the folks over at Polygon, Microsoft Studios Creative Director Adam Isgreen explained that, after Phantom Dust was initially revealed for a revival, the team discovered that they had quite a bit more work on their plate than originally anticipated.
If we're putting that timeline together correctly, this helps explain why the Phantom Dust remake faded into obscurity and was even shelved for a brief period.
The original game came out for the OG Xbox and, as the original story points out, was actually about a decade ahead of its time. The game's core mechanics focus on collecting cards and equipping them to maximize your character; something we never saw much of in the years following Phantom Dust, but see in oodles of games nowadays.
Microsoft announced the revival of Phantom Dust for the Xbox One a few years back, but that was followed by radio silence until it was finally revealed the project was "on hold." Then, last year, an E3 announcement that the Phantom Dust reboot was back on track got fans excited all over again.
It's been an interesting journey so, at this point, we figure an info blowout is due during E3 next month. According to Isgreen, the team had to figure out a whole bunch of variables before they came back with the fresh announcement, even how the game was going to display.
They figured out that puzzle, though, and are reporting that the game will run at whatever resolution you're capable of running. As Isgreen puts it, if you've got a rig with 4K resolution, then that's what the game will render at. Only at 1080p? Then that's what you'll get.
It seems like the new version of Phantom Dust is coming along nicely for PC and Xbox One, so what are you readers most excited to experience once it finally launches?
Staff Writer for CinemaBlend.