The Mario/Raving Rabbids Crossover Game Looks Just As Insane As We Thought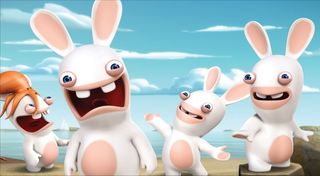 There have been some new details made available for the upcoming crossover game between Nintendo's Super Mario franchise and Ubisoft's Raving Rabbids franchise. We've finally learned a bit more about the gameplay and the characters.
WWG rolled out the details based on some leaks ahead of the game's debut at this year's E3 during Nintendo's supposed Direct. After a leaked bit of an image went live on Twitter and was quickly deleted, someone managed to snap a photo of the image and then reshare it on Twitter.
WWG reached out and contacted Ubisoft about it, and the company confirmed that the image was part of the Mario + Rabbids: Kingdom Battle art.
It's hard to tell if this is going to be the official box art or just promo art for the game, but it basically shows a mixture of characters on display, involving Mario and the Rabbids as they're firing hand-cannons at some undisclosed targets.
The blaster cannons look like something out of a Mega Man game, but we see that each cannon has its own effect. Mario, for instance, has a blue laser blaster, while Yoshi is firing a neon pink phaser. One of the Rabbids who is dressed up as Yoshi is in the air unleashing a phased scatter shot into the air, while Princess Peach seems to be unloading a wave beam of sorts.
Another one of the Rabbids, dressed up as Peach, is there taking a selfie. The blaster cannon is decked out in a violet and white fire design, but it isn't being put to use like the others. A more interesting element to the photo is one of the Rabbids dressed up as Luigi firing off some sort of yo-yo looking device.
Apparently Mario + Rabbids: Kingdom Battle is supposed to be a strategic RPG of sorts. The blaster cannons will play a big part in how the battles will play out in the game. There will be eight playable characters, four of which will be from the Super Mario series, including Mario, Luigi, Princess Peach and Yoshi, and four from the Raving Rabbids series, four of whom will be dressed up as Mario, Luigi, Princess Peach and Yoshi.
The crossover hasn't had the best of receptions from the gaming community due to Ubisoft's rapidly declining reputation. The company was at one point highly revered for their output of Assassin's Creed and Far Cry titles. However, over-saturation, annual releases, buggy releases, and a history of downgrades has prompted some people to lose faith in the publisher and their titles.
Ubisoft would really have to work hard to prove that they'll do right by Nintendo's property, and that the game isn't another cookie cutter copy-and-paste title. Based on the description alone it doesn't seem at all likely that they'll be borrowing any mechanics from their previous outings. We'll get a chance to see what Mario + Rabbids: Kingdom Battle looks like in full when it debuts at E3 next month.
Your Daily Blend of Entertainment News
Staff Writer at CinemaBlend.