Xbox One's Streaming Service Adds Co-Op, Changes Name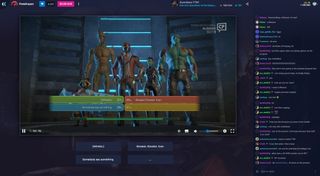 (Image credit: Microsoft)
Microsoft is making moves and switching up their tactics with how they're addressing the gaming industry by dabbling in a streaming service similar to Twitch. They've opted to change the name of the service to Mixer, and they've even added a new cooperative feature.
Over on the official Xbox News Wire (opens in new tab), co-founder and Mixer engineering lead, Matt Salsamendi, announced the official name of the digital streaming service for Xbox.
Yes, Microsoft decided to change the name from Beam to Mixer, but it was done because they feel it better suits the ecosystem that they're creating for the Xbox platform.
Several months ago we announced that Microsoft had acquired Beam, a live-streaming service for the Xbox, Windows and mobile platforms. The service would allow gamers to broadcast on Xbox One or Windows 10, and you could interact with those live-streaming using a phone, an Xbox or Windows 10.
Having changed the name from Beam to Mixer actually makes sense once you realize what they've done with the service.
Users boot up Beam and can live-stream to gamers who can interact with what's happening on the stream, such as being able to make decisions for Telltale games like Guardians of the Galaxy: The Telltale Series and other games like Minecraft.
They're also releasing an integration development kit to allow for more integrated live-streaming from the community with what's happening on screen. They've also removed the stream delay, so gamers and viewers are able to see what's happening on the streamer's screen 1:1.
And, speaking of streamer's screens... they've introduced the new co-op live-streaming feature. Now this is something that could really one-up the Twitch and YouTube Gaming ecosystems, because a live-streamer and up to three of their friends can play through a single Mixer tab with up to four players in split-screen. This means everyone who joins the lobby will see four screens and will be able to interact with those screens.
It's kind of crazy, but this even works for a variety of games where you might not expect it to work. For instance, the split-screen feature works for games like Playerunknown's Battlegrounds and League of Legends, and games like Minecraft.
The service currently works on PC and Xbox One, and the beta is currently available on mobile devices so users can join in and check out the streams. They're also planning on adding the ability to stream games through Mixer at a later date through mobile devices. They tease the idea of being able to stream a multiplayer session of Pokemon Go while you're out and about around town. The concept is pretty cool, actually. They even demonstrate how it could work in real-time with a video that covers the basic functionality and co-op live-streaming.
Those who are part of the Xbox Insiders program will see the brand new Xbox dashboard that features the all new Mixer tab on the main menu where you can easily access content right from your home page through the tab at the top of the menu.
They're also opening a studio in New York City called the Mixer NYC Studio, which is located at the Microsoft Store in New York. They'll be hosting competitions, events, and other live streaming productions out of the studio in front of a live audience.
They'll be hosting a variety of events in celebration of the grand opening of Mixer, including playing tournaments across games such as For Honor, Rocket League and Gang Beasts to name but a few. You can hop into Mixer right now to get a taste of Microsoft's newest live-streaming service.
Staff Writer at CinemaBlend.
Your Daily Blend of Entertainment News
Thank you for signing up to CinemaBlend. You will receive a verification email shortly.
There was a problem. Please refresh the page and try again.