Monster Hunter XX On The Nintendo Switch Features An Extra Cool Ability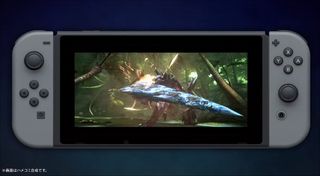 (Image credit: Capcom)
Capcom's reveal of Monster Hunter XX on the Nintendo Switch, a port of the recently released Nintendo 3DS version, came with some surprising reveals and an extra cool ability that a lot of people probably weren't expecting.
According to Gamespot, Monster Hunter XX is scheduled to launch in Japan on August 25th for the Nintendo Switch, arriving an entire season after the game launched on the Nintendo 3DS back in March. And while there's no Western release date set in stone right now, the game itself has some extremely cool features tucked inside, including the ability to engage in cross-play cooperation between the Nintendo Switch and the Nintendo 3DS.
Unfortunately, local cross-play isn't available but online cross-play is available. You can play with a mixture of devices, such as three Nintendo Switch consoles and one Nintendo 3DS in four-player co-op, or you can have two Nintendo 3DS units and two Nintendo Switch units. Alternatively, you can have three 3DS devices and one Switch, and all of you can play together in an online session.
It's also possible to save your data and transfer it from the Nintendo 3DS to the Nintendo Switch, so you can carry over your progress, even from Monster Hunter Generations, the original release for the game, which came out last year in North America and back in 2015 in Japan.
What's more is that the cross-play can also tie into single-player games. By this I mean that if you have a Nintendo 3DS and a Nintendo Switch and a copy of Monster Hunter XX for both systems, you can pair up your 3DS to the Nintendo Switch and use your 3DS as a controller to play Monster Hunter XX on the Switch if it's docked and running in TV mode. This enables you to play the game in full native 1080p on the big screen and in native 720p when you're playing the game in handheld mode on the Switch.
This is a really cool feature because it means that Nintendo is fulfilling their statement of saying that the Switch isn't there to replace the 3DS. In cases like this we can see that what they're saying is true and it seems to indicate that there could be a really cool future in store for 3DS owners and Switch owners if Nintendo continues to work with publishers and developers to produce crossover, cross-play titles between their two systems, covering a wide swath of both the handheld market and the home television gaming market, creating an ecosystem with massive potential and market value.
In fact, investors actually saw exactly this in the announcement of Monster Hunter XX for the Nintendo Switch.
The stock price for Nintendo absolutely skyrocketed when Capcom announced that a new Monster Hunter was being ported from the Nintendo 3DS to the Switch for an August release because it shows a lot of promise from Nintendo in the potential future of their hybrid system.
Fans have already started tripping over themselves begging Capcom for a Western localized version of the game. Others have opened their eyes to the possibilities that this news brings, and have begun wondering if games like Animal Crossing and Pokemon \ will soon receive cross-platform compatibility between 3DS and Nintendo Switch gamers. If Nintendo pulls the trigger on that endeavor the whole stock boost they received from _Monster Hunter XX_ over cross-play and inter-connectivity will look like child's play.
Staff Writer at CinemaBlend.