Monster Hunter Stories Will Have An Unlikely Playable Character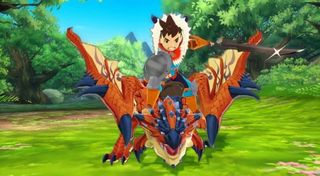 Capcom and Nintendo have teamed together for the upcoming Monster Hunter Stories, a narrative-driven spin-off of the typical hack-and-slash Monser Hunter series. In the upcoming Nintendo 3DS title, a special guest star will be playable... Link.
Gamespot is reporting that during the Japanese Nintendo Direct, Nintendo unveiled a special playable character for the upcoming release of Monster Hunter Stories in the form of Link and Epona. He's not just a skin over the standard character, though. Link actually has his outfit, his Master Sword and his shield. Even more than that, he fights similar to the way he did in The Legend of Zelda: Ocarina of Time.
You briefly get to see the content in action during the 41 minute Nintendo Direct video at the 18 minute mark. You can check it out below from the official Nintendo YouTube channel.
The trailer starts off by showing how the Nintendo 3DS title will put players at the center of a story-driven conflict involving hunters and monsters, introducing gamers to some all new ways to engage in the game world of Monster Hunter Stories, such as being able to fly around on the pets, but then it takes a decidedly different turn when the Monster Hunter cross Nintendo branding icons pop up.
We then get to see Link with a pet wearing Majora's Mask, and from there we see Link running around, fighting monsters and riding on his trusty horse, Epona. The one thing that really stands out is the fact that the art-style is a mix of Toon Link from Legend of Zelda: Wind Waker and the slightly taller link from Legend of Zelda: Majora's Mask. The combination and art-style of the classic hero fits in really well with the Monster Hunter title. In fact, one could almost be mistaken for thinking it's a brand new game in the Legend of Zelda franchise.
In addition to the sword, shield and Epona, Link will also be able to make use of the Tri-Force, but we only see a small cut-scene of the elf embracing the power as he charges toward an unseen opponent.
It's a good way for that trailer segment to end because it was definitely hyped in a good way.
They don't detail how you get your hands on the Link outfit or Epona, but I'm sure that will arrive soon enough considering that the game is due out in Japan this October.
Gamespot notes that this isn't the first time the Legend of Zelda protagonist has been featured in a Monster Hunter game. In fact he was available as an outfit in Monster Hunter 4: Ultimate.
Back during the middle of the Wii U's generation, Nintendo did mention that they would be doing more collaborations and expanding the liberal use of their brands into other properties, so this shouldn't come as too much of a surprise.
There is no release date yet for the Western version of Monster Hunter Stories, but expect it to come sooner rather than later.
Your Daily Blend of Entertainment News
Staff Writer at CinemaBlend.
Your Daily Blend of Entertainment News
Thank you for signing up to CinemaBlend. You will receive a verification email shortly.
There was a problem. Please refresh the page and try again.