Avatar Is Getting A Mobile Game, Because Of Course It Is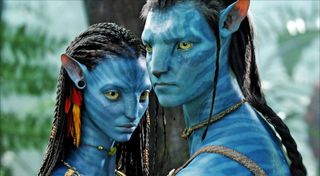 (Image credit: 20th Century Fox)
The new Avatar movies on the horizon from James Cameron are obviously going to be huge. Well, with nearly every super-big, tentpole blockbuster, there's usually some sort of video game tie-in. In the case of Avatar, Fox decided to go the mobile route this time around.
Hollywood Reporter is reporting that a subsidiary of 20th Century Fox and Lightstorm Entertainment have teamed up to acquire Aftershock, a mobile developer studio who previously had ties to Kabam.
Aftershock will be in charge of creating the mobile-strategy game based around the world of James Cameron's Avatar. No details on the game were revealed, but it seems likely that the game will be similar to other kingdom management games like Clash of Clans.
For those of you not in the know, Kabam was once a huge player in the mobile gaming space, having acquired a number of other mobile studio upstarts and established a strong presence in the mobile and casual gaming space with hits across Facebook and smartphones. A few of the big titles Kabam had published to its name included Fast & Furious 6: The Game, Star Wars: Uprising, The Hunger Games: Panem Rising, and Marvel: Contest of Champions.
It sounds like this deal could be the start of something big, as Aftershock will be positioned under FoxNext Games, an interactive entertainment spin-off from the 20th Century Fox brand. What's interesting here is that Fox had a previous video game branch focused on developing and publishing games called Fox Interactive. The outlet was responsible for a lot of different games over the years, including the popular first-person shooter series, Aliens vs Predator. The movie studio arm ended up shutting down Fox Interactive back in 2006.
For the upcoming mobile Avatar game, FoxNext and Aftershock will be taking things slowly. According to the Hollywood Reporter article, FoxNext president Salil Mehta mentioned that the studio will be monitoring the success (or failure) of Aftershock's new title, and will decide from there if more games will be made.
According to Mehta, there's just a tinge of apprehension about Fox deep-diving back into the brand for video games, despite the fact that the world of Pandora seems to be hugely popular and there's no shortage of interest in the brand. In fact, back in May, it was announced that Pandora: The World of Avatar would be opening at Disney World, and by the end of May, the themed attraction had garnered so much attention from park visitors that there were waiting lines stretching for up to 400 minutes, as reported by Blasting News. So there's definitely no shortage of interest from fans in Cameron's Avatar.
Then again, Fox may be reluctant to go all-in after the last attempt to tackle the gaming industry based on the world of Pandora. Back in 2009 Fox had acquired the services of Ubisoft to work on a third-person shooter based on the Avatar movie. It was a typical movie tie-in game that came and went that most people forgot about, despite the fact that Ubisoft even went the extra mile to acquire the services of the legendary Sigourney Weaver to reprise her role from the film.
No release date has been set for the upcoming Avatar mobile strategy game, but it's said to arrive before the upcoming sequel movies hit theaters.
Staff Writer at CinemaBlend.
Your Daily Blend of Entertainment News
Thank you for signing up to CinemaBlend. You will receive a verification email shortly.
There was a problem. Please refresh the page and try again.