Second Earth Aims To Dethrone Clash Of Clans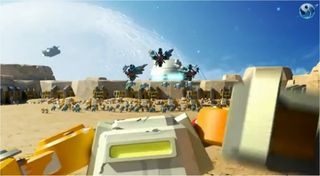 A lot of people play mobile games, not quite as much or to the degree that some AAA publishers would lead you to believe, but a lot of people play mobile games. One of the games that some of these people play is a highly popular title called Clash of Clans. Now I've never played this Clash of Clans, and outside of publishers ratting and raving about games I've never heard of that make insane amounts of money from mobile users not bright enough to know when to hit the "quit" button instead of pumping inordinate amounts of money into an obvious cash-grab, but it's obviously big enough to warrant other companies to design games aimed at taking it down. One of those games happens to be Second Earth.
Now Second Earth is an isometric, squad-based, strategy game where players will build, fortify and reinforce their forces in order to control, dominate and obliterate their opponents.
As mentioned in the game's press release...
Quite naturally, it's impossible to talk about a game and continually compare it to something else when most people probably don't even know what this game looks or plays like. To give you a brief example of what to expect from Second Earth, you can check out a promotional trailer for the game below.
I have to admit, I'm not big on mobile titles and I'm not good at real-time strategy games, but that trailer above was pretty freaking sweet. It's just a shame that one too many games out there hardly ever live up to the potential of their promotional trailers.
As for the game itself, Second Earth can be played either solo or socially with the game's online mode. There's supposedly a hardcore element for the competitive head-to-head play, but I always find it difficult to understand how games can be played competitively via mobile devices when you have to deal with touch-screen delays and swipe latency. It reminds me of when people say that they can't tell a difference between 30fps and 60fps, even though in the case of the former you're dealing with a lot of potential gameplay hiccups, and in the case of the latter you're absolutely going to get wiped if you're still playing as if it's still 30fps.
If you want to get in some game time with Second Earth from Ntreev, you can do so right now by paying a visit to the official Google Play store or by learning more about the game by visiting the official website.
Your Daily Blend of Entertainment News
Staff Writer at CinemaBlend.