We Won't Be Hearing About Halo 6 Anytime Soon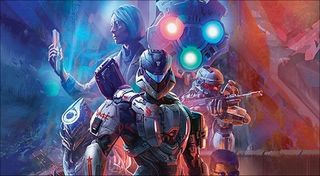 (Image credit: Microsoft/Dark Horse Entertainment)
After the backlash Microsoft and 343 Industries received for Halo 5: Guardians, it was time to go back to the drawing board for the studios. So far the developers have been silent on the progress of Halo 6, and it appears it's going to stay that way for quite some time because we won't be hearing about Halo 6 anytime soon.
Lead writer Jeff "Grimbrother One" Easterling informed the Halo community over on the Halo Waypoint website that there will be no new info regarding Halo 6 anytime soon. In fact, it won't be appearing at GamesCom in August in Cologne, Germany. The game also won't be making an appearance and won't have any announcements made for it at PAX West in Seattle, Washington this upcoming September.
Easterling made it known that they won't be talking about the next major entry in the series, or any remastered versions, or remakes of the classic, anytime soon. He mentions that they won't be talking about the next entry for "quite some time" and that given that the Halo universe is diverse and wide-ranging it doesn't mean that what they share will be confined to one medium or one genre.
In a way the post kind of segues from that point into the revelation that there will be a library edition of Halo: Escalation from Dark Horse Entertainment to round out the story arc contained within the comic book series covering the characters and world building therein.
The rest of the post covers a wide range of various topics in relation to the series, including Halo Wars 2 content. However, the community hasn't been begging for news and info about Halo Wars 2; gamers are concerned, interested and intrigued with whatever is set to canonically follow Halo 5: Guardians.
Previously, 343 Industries and the heads over the Halo brand have mentioned that there would be changes to the story to give gamers more of Master Chief, since he was featured only partially in the story of Halo 5. The majority of the campaign centered around Agent Locke, who was upgraded to a Spartan and in charge of Team Osiris. Locke's mission was to lead Osiris to hunt down Master Chief and discover why Blue Team went AWOL.
It turns out that Chief and Blue Team didn't actively seek to go AWOL, but they were hunting down the whereabouts of the remnants of Cortana, whose fragments from rampancy had ended up joining with ancient Forerunner technology, allowing her to materialize into a physical being.
Spoilers ahead so you've been warned!
It turns out that the main villain of Halo 5 -- apart from the Warden who protected the installation that controlled the Forerunner Guardians -- was actually Cortana. The reveal of Cortana as the main villain left a somewhat sour taste in the mouths of a lot of gamers, and brought about intrigue from others. The limited screen time of Chief coupled with one of the main heroes turning out to be the main villain for Halo 6 left a lot of people confused, antsy and unsure as to whether or not 343 was the right studio to lead the franchise into the future.
343 has mostly gone dark regarding talking about where the series is going next, and it's likely one of those things where serious reevaluations of the overall story arc are taking place. Heck, we even saw how Halo Wars 2's main antagonist, Atriox, was left in an open-ended story that many believe will tie into Halo 6. If keeping silent is what it takes to bring some cohesion and strong storytelling back to the Halo franchise, then I don't think gamers will mind all that much. Just don't expect to learn anything new about the upcoming title anytime soon.
Your Daily Blend of Entertainment News
Staff Writer at CinemaBlend.