Halo Wars 2 Looks Amazing In This Exclusive Artwork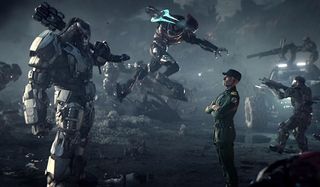 With Halo Wars 2 set to launch in just a few weeks, Microsoft has celebrated by commissioning a couple of pieces of artwork that make the upcoming strategy game look pretty dang epic. And for those of you who like what you see, you'll have an opportunity to grab prints leading up to the games' launch, too.
With Halo Wars 2 set to launch on Feb. 21, Microsoft has called upon three artists to offer their unique take on the upcoming battle. The task was simple: Create two images focused on the conflict at the heart of Halo Wars 2; one that displays the UNSC faction and the other displaying the Banished, a new enemy group making its debut in the upcoming Halo spinoff.
One of the artists tapped for this project is Grzegorz "Gabz' Domaradzki whose work on this project was provided exclusively to CinemaBlend. According to the announcement, Domaradzki started his career as an illustrator and graphic designer. He apparently does all of his work by hand initially before tucking in for the digital work. If these Halo Wars 2 images have a familiar quality about them, that might be because you've seen Domaradzki's worked tied to series like Star Wars, Batman, Iron Man and more.
We really like how Domaradzki's images offer a heck of a lot of information in a limited amount of space. We get prime characters to focus on, with additional scenes of war painted across their portraits, arguing that a leader's true power comes from those who are willing to fight for their cause. We also like how this first image is facing to the left while the next faces off to the right, meaning they'd complement each other perfectly hanging side by side on a wall.
And speaking of that second piece, let's take a look at the Banished from Halo Wars 2.
If you find yourself wishing you could decorate your home with these images (and remember there are still two more sets coming from two other artists), then Microsoft is encouraging folks to stay tuned to their own, or the Halo Twitter page. In the weeks leading up to Halo Wars 2's launch, they'll be explaining how folks can get their hands on the sets.
As for the game itself, Halo Wars 2 looks to pick up right where the original left off, with the crew of the Spirit of Fire set to confront a new enemy with the ability to bring about Armageddon. When you're not battling the Banished in strategic battles, you can also take part in cooperative and competitive multiplayer modes, including the recently-revealed card battle mode.
Look for Halo Wars 2 on Feb. 21.
Your Daily Blend of Entertainment News
Staff Writer for CinemaBlend.