Monopoly Gamer Adds Mario To The Classic Board Game, Might Actually Make Monopoly Fun Again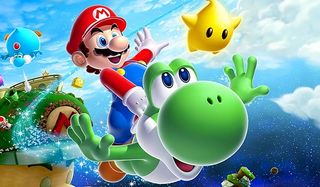 It's already been a huge year for Mario in the virtual space and, thanks to a new version of Monopoly, the mustachioed plumber's winning streak may soon continue in the physical realm. Get ready to bring the Mushroom Kingdom to your tabletop. Monopoly Gamer isn't just a reskin of the classic board game, it's an entirely new way to play it.
Nintendo and Hasbro announced today that they will be joining forces to produce a new Monopoly Gamer Edition of the popular family board game based on the Super Mario Bros. universe.
To be clear, this should not be confused with the Mario Bros.-themed versions of Monopoly you might have seen on the shelf at Walmart or your local game shop. According to a press release from Hasbro, this version of the game will introduce the iconic Nintendo characters to the game, as well as some twists to the gameplay inspired by the popular video game franchise. Here's a rundown of some of the ways this version of Mario Monopoly sets itself apart from the pack.
*Similar to the current Monopoly game, players race around the board to "own it all," but this time -- true to Super Mario gameplay -- players will complete levels (buying property), collect coins (money), and battle bosses to rack up points and win the game.
*Each Super Mario game token has special powers and unique abilities to use during the gameplay (e.g. when the player with the Mario token rolls a "Super Star," the player collects bonus coins from the bank).
*Players can purchase additional "Power Pack" tokens to take their game experience to the next level by collecting additional characters, including Luigi, Boo, Rosalina, Wario, Diddy Kong, and more.
A bunch of Mario mechanics and even DLC? Yeah, that sounds about right. Those player abilities actually sign like a pretty interesting wrinkle, too, and should make picking characters more strategic than simply grabbing the one you think looks the coolest.
Of course, this isn't the first unexpected partnership to involve Mario and Co. this year, as it was officially revealed during E3 (following several leaks and rumors) that Nintendo's flagship franchise will be teaming up with Ubisoft's Raving Rabbids. During the Ubi E3 2017 games showcase, the publisher actually brought Nintendo President Satoru Iwata out onto the stage to help reveal Mario + Rabbids Kingdom Battle. The game will see Mario, Luigi, Peach and the rest of the gang partner with a bunch of cosplaying Rabbids in order to take out a bunch of baddies in a turn-based SRPG setup that actually looks pretty fantastic. If you've ever wanted to see what XCOM looks like in the Mushroom Kingdom, we'll find out when the game launches this August.
Following that, Super Mario Odyssey will launch for the Switch Oct. 27 so, yeah, 2017 is shaping up to be a pretty busy year for the guy. Combine all of that with this newly revealed Monopoly title and you can basically get your mushroom-powered gaming fix whether you're playing at the tabletop or with a controller in hand.
Staff Writer for CinemaBlend.