Mario + Rabbids: Kingdom Battle Looks Just As Bizarre, And Fun, As It Sounds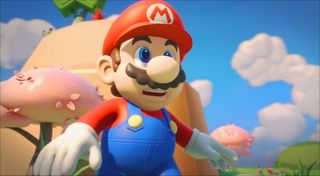 Even though Mario + Rabbids: Kingdom Battle was leaked way ahead of the actual official announcement, which took place during the Ubisoft E3 press conference this year, the game really is as crazy as you would expect, but in a fun and bizarre way.
During the opening of the Ubisoft press conference, CEO Yves Guillemot invited Nintendo creative director Shigeru Miyamoto onstage to talk about the collaborative process between Nintendo and Ubisoft. Miyamoto explained to the audience that there was one major condition that Nintendo set upon Ubisoft: the game couldn't be a platformer.
Guillemot explained that after that one condition was set in place, Ubisoft began finding a team who could work on the crossover title.
Ubisoft's goal was to make something unique and interesting that took the best of both worlds from Super Mario games and the Raving Rabbids titles. What did it come up with? Mario + Rabbids: Kingdom Battle.
In the trailer we see that there are two groups of Rabbids. One group is imitating the classic Nintendo characters, including Princess Peach, Luigi, Yoshi and Mario, and some evil Rabbids who are attempting to attack the beloved Toadstool kingdom.
After Mario encounters the first Rabbid dressed up as Princess Peach, the two team up to take on the evil Rabbids. Mario is then joined by some other Rabbids and they begin using those cool arm blasters that we've seen in the press shots for Mario + Rabbids.
We finally get to see some of the gameplay for the upcoming title, which involves a sort of isometric battlefield. A lot of people who saw the trailer instantly thought that the game looked like Super Mario meets Raving Rabbids meets XCOM.
It's easy to see how people are drawing comparisons to XCOM due to the turn-based combat where players will use various blaster cannons to take down the evil Rabbids.
One of the added features to the game is being able to move through the environment, slide into cover and even destroy the cover by shooting the blocks that the other characters are hiding behind.
There's also a variety of different blaster weapons and turrets and even melee weapons that can be utilized when the characters get up close and personal with each other.
The game is due for release exclusively on the Nintendo Switch starting August 29th. It might have been Ubisoft's worst kept secret, but the game was definitely well received amongst most of the gaming community.
A lot of people weren't originally sure what to make of Mario + Rabbids but it looks like gamers interested in a very strategically oriented Mario game, not unlike Super Mario RPG or Paper Mario, might enjoy the upcoming title from Ubisoft. You can skim through a few of the additional details over on the official Rabbids web portal (opens in new tab).
Your Daily Blend of Entertainment News
Staff Writer at CinemaBlend.
Your Daily Blend of Entertainment News
Thank you for signing up to CinemaBlend. You will receive a verification email shortly.
There was a problem. Please refresh the page and try again.